Want to know Dying Light System Requirements?
Well, in that case, I can safely presume that you love games involving zombies.
Dying Light was launched a couple of years back, sometime in 2015, and it gained a lot of popularity among people who prefer games in this genre.
Dying Light System Requirements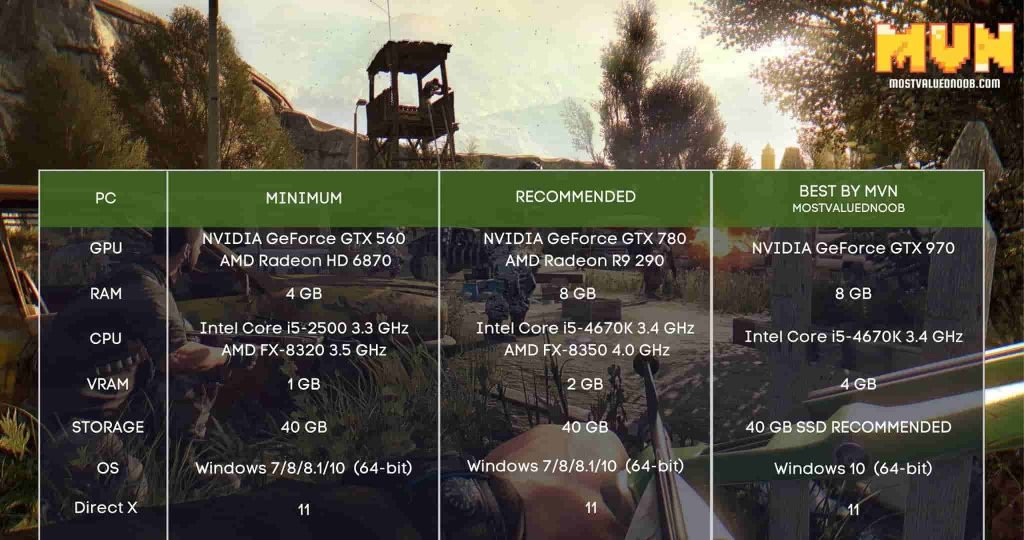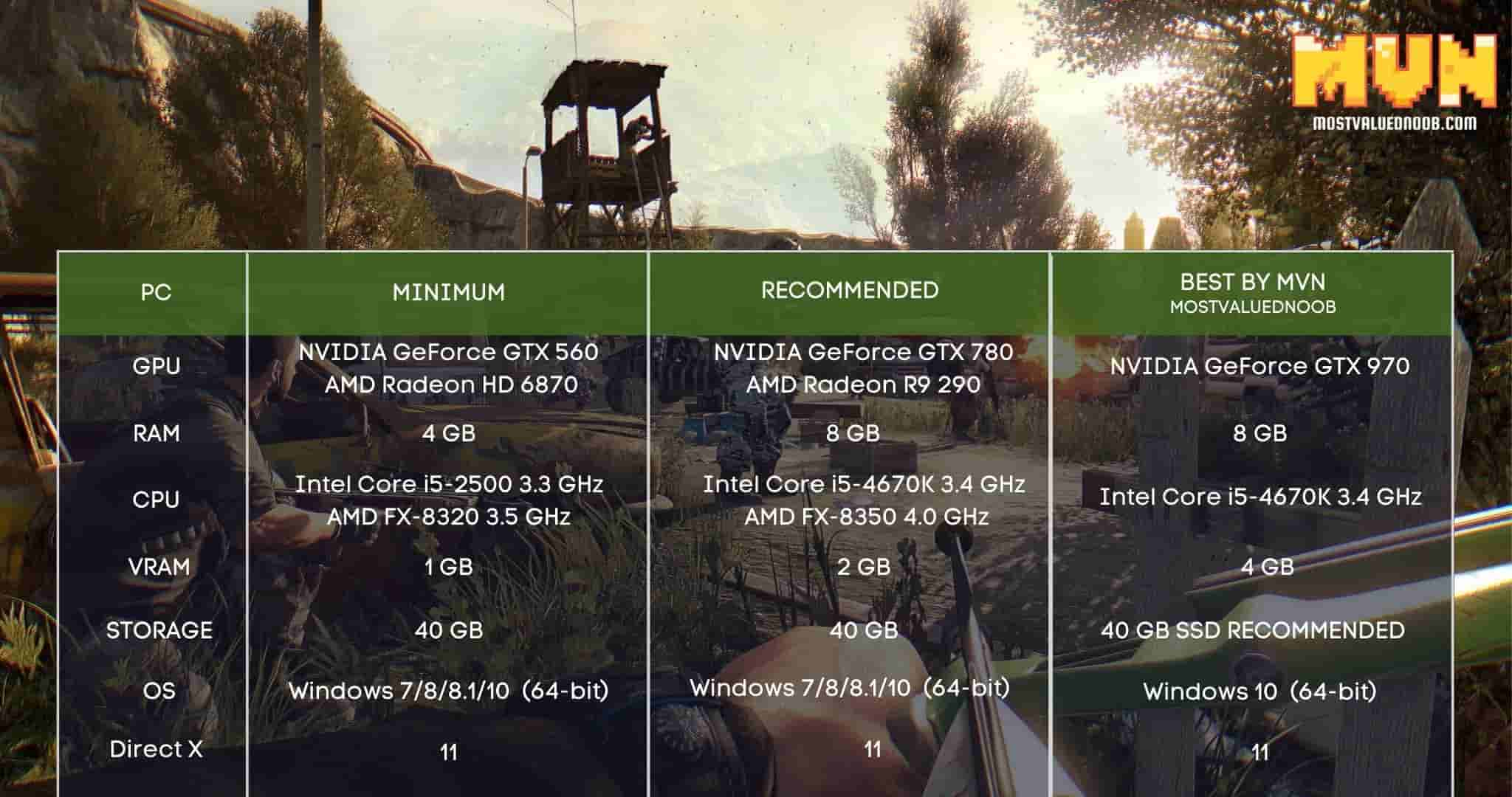 Without wasting any time, let me specify the system requirements for this game, both minimum and recommended.
Dying Light Minimum System Requirements
Here are the minimum system requirements for you to play the game on your PC or laptop:
| | |
| --- | --- |
| OPERATING SYSTEM | Windows 7/8/8.1/10 (64-bit) |
| CPU / PROCESSOR | Intel Core i5-2500 3.3 GHz or AMD FX-8320 3.5 GHz |
| RAM | 4 GB Memory |
| GPU | NVIDIA GeForce GTX 560 or AMD Radeon HD 6870 |
| VRAM | 1 GB |
| DIRECT X | 11 |
| FREE DISK SPACE | 40 GB Free Storage Space |
With these specifications it is quite possible that you might experience some lags. They are not going to give you the ultimate gaming experience. For a better experience it is suggested that you go for the recommended system requirements as mentioned below:
Dying Light Recommended System Requirements:
| | |
| --- | --- |
| OPERATING SYSTEM | Windows 7/8/8.1/10 (64-bit) |
| CPU / PROCESSOR | Intel Core i5-4670K 3.4 GHz or AMD FX-8350 4.0 GHz |
| RAM | 8 GB Memory |
| GPU | NVIDIA GeForce GTX 780 or AMD Radeon R9 290 |
| VRAM | 2 GB |
| DIRECT X | 11 |
| FREE DISK SPACE | 40 GB Free Storage Space |
Additional Notes:
If you are trying to play it on your laptop then let me tell you that laptop versions of the graphics cards may work but they are not officially supported.
Windows-compatible keyboard, mouse, optional controller (Xbox 360 Controller for Windows recommended)
FAQs
Can my PC run Dying Light?
Dying Light can run on any PC with Windows 7 and upwards. Not just this, it also has Mac and Linux versions. In such a case, it has quite an outreach.
How may GB is Dying Light The Following?
40 GB. Dying Light needs at least 40 GB or space on your hard drive (as per both minimum and recommended system requirements, as mentioned abaove). Moreover, it's important to nore that JFS and XFS file systems are not supported.
Is Dying Light Scary?
Well, to be honest, it is not something you would want to play if you want to wind down after a hard and long day. You may find it terrifying as well as frustrating. As the game opens, you find yourself landing in a city that is infested with zombies and you have to fight them to survive.
The game does not seem to be very original and at times it looks as if the story is forced upon you. I myself, am not a big fan of this game.
Is Dying Light similar to Dead Island?
Yes! Even though there's no supposed connection between the two, there are a couple of similarities between the two games. Dead Island was launched prior to Dying Light and it seems like a spiritual successor to Dead Island.
Can you turn off swearing in Dying Light?
Yes, you can. You can actually shit off Profanity and you won't hearing swearing in the game. All you need to do is go to Options> Look and set Allow Profanity to NO. As you do it, all Profanity will be blocked in both voice as well as subtitles.
Conclusion
Dying Light is a game only for those that like this genre. If you are one of those, then try to stick to the recommended settings above to enjoy this game.
Abdullah Tariq, the founder of this site, is a passionate gamer and loves sharing his knowledge about gaming hardware and accessories. He is also a software engineer whose ultimate goal is to develop gripping titles.