Before I tell you more about Escape from Tarkov System Requirements, let's find out some trivia about this game…
Can your PC handle Escape from Tarkov?
It's quite apparent that Escape from Tarkov or EFT is a highly demanding game for PC's and laptops and it entirely depends upon the internal components of your device whether it will be able to run the game smoothly and satisfactorily.
It goes without saying that a couple of factors can influence the performance of the game and these could include the processor, graphics card, RAM of the device etc. Thus, it is always better to know beforehand whether your device adheres to the system requirements as spelled out by the Battlestate Games.
This article lists the minimum as well as recommend system requirements and if you think your system falls short then you can either upgrade it or even buy a completely new one with better configurations, if possible.
But before we delve into the, let's find out more about what East of Tarkov is…
What is Escape from Tarkov?
Developed by Battlestate Games, Escape from Tarkov is an unrelenting FPS game. It is unique in the sense that it blends in all the thrilling elements of other loot and shoot royal-style games. What sets it apart from other games in the same genre is that is involves high-risk and you could lose all the gear that you had been working for in just one go. The risk is very high but when you emerge winner the satisfaction that you get is also at a completely new level.
Tarkov, the setting place of the game, is a fictional war-torn city in the Norvinsk region that lies on the border of Europe with Russia. It was once supposed to be a great center of international business but its popularity seems to have waned off over time leaving the city deserted with just a few locals left behind who now live as well-armed gangs, famously known as scavs. These gangs are constantly fighting with each other to control various areas of the city and they can go to any means to get hold of these areas.
As a player, you join the group as one of the mercenaries and you either have to join USEC or BEAR. Your goal is to move through the gang-inhabited areas and complete raids so that you can ultimately reach the extraction point.
It's almost too real!
What makes the game even more interesting and realistic is that it takes care of almost all aspects of your health as a player. You have to take care that you are not shot down in the game.
But this is just one part of the game. Staying alive without shootouts is also important and you have to make sure that you are able to fight dehydration and hunger in between. Not just this, you are also required to treat any injuries or wounds that you might have with the help of the right medicines and other resources that become available at different stages of the game. Last but not the least, you are also required to deal with the mental or psychological effects of exhaustion and trauma that could include hallucinations and even tremors.
Furthermore, you are also required to ensure the good status of your weaponry so as to avoid any kind of overheating, gun jams, and weapon wear out, all of which could have lethal consequences for you if they were to happen.
Escape from Tarkov System Requirements
Now that you have a clear idea of what the game involves and what you need to do as a player, let's have a look at system requirements to play this game smoothly.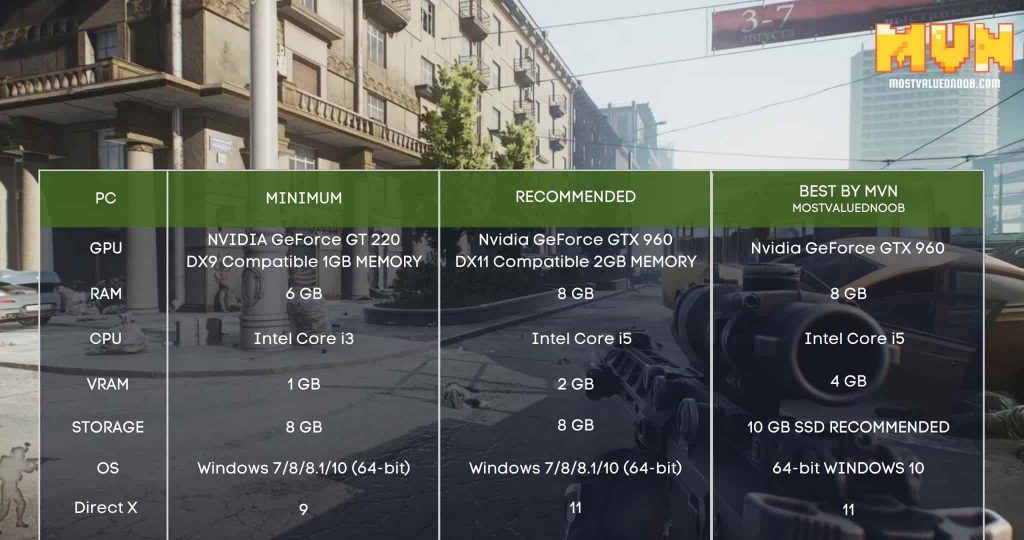 Escape from Tarkov System Requirements (Minimum)
| | |
| --- | --- |
| OPERATING SYSTEM | Windows 7/8/8.1/10 (64-bit) |
| CPU | Intel Core 2 Duo, i3 2.4 GHz or AMD Athlon, Phenom II 2.6 GHz |
| RAM | 6 GB Memory |
| GPU | NVIDIA GeForce GT 220 or DX9 compatible with 1GB VRAM |
| VRAM | 1 GB |
| DIRECT X | 9.0 |
| FREE DISK SPACE | 8 GB Free Storage Space |
| INTERNET | Broadband Internet Connection |
Listed above are the minimum system requirements to play the game. It is quite clear that even at the lowest settings it will result in lower than desired framerates. At this setting, the game is not hardly going to produce more than 20 FPS and that does not seem to be a highly enjoyable experience for any game.
What it means is that you need to go for the recommended settings which are listed below:
Escape from Tarkov PC System Requirements (Recommended)
| | |
| --- | --- |
| OPERATING SYSTEM | Windows 7/8/8.1/10 (64-bit) |
| CPU | Intel Core i5, i7 3.2 GHz or AMD FX, Athlon 3.6 GHz |
| RAM | 8 GB Memory |
| GPU | NVIDIA GTX 960 or DX11 compatible with 2GB or more |
| VRAM | 2 GB |
| DIRECT X | 11.0 |
| FREE DISK SPACE | 8 GB Free Storage Space |
| INTERNET | Broadband Internet Connection |
If you want to enjoy the game, I would suggest that you stick to the recommended settings right from the start. The game actually requires somewhere around 10 GB of RAM and thus it is always better to go for either 12 GB or even 16 GB RAM. This will make sure that the game runs smoothly without any lags or other issues. Team it up with either a Core i5 or i7 with at least a 2 GB graphics card to ensure a great gaming experience with FPS within the range of 60-100.
Consider Investing in fast storage options
One of the last things that I would suggest is that you invest in a good SSD. This is because this game consists of a large amount of terrain and asset loading and storing it on a SSD is a better option as compared to using an HDD. It goes without saying that it will help reduce load times considerable and thus it will result in faster speed.
Even though the game is just about 10 GB in size, you can certainly go for a standard 250 GB – 500 GB SDD. It is one of the best value options and you will find is handy when you have to download other games in future. It will give you a lot of space for other games and apps.
FAQs
Can I run Escape from Tarkov on my PC?
Yes, there are some system requirements that your PC must adhere to. For instance, it should be a 64-but version of Windows 7 or above. Moreover, the minimum space required is 8 GB of RAM but it is recommended that your system should have at least 12 GB of RAM to ensure smooth play. You can check out minimum as well as recommended system requirements in the tables above.
How big is Tarkov 2020?
Expect it to be somewhere around 10 GB. Thus, you must have at least 12 or 16 GB RAM so that you have space for other programs and apps as well. As suggested above, a better option is to go for a standard 250-500GB SDD with more than enough space for other games that might download in future.
Which is the biggest map in Tarkov?
Nikita Buyanov, COO of Battlestate Games clearly says that Streets of Tarkov is going to be the biggest and most detailed location ever.
Conclusion:
Escape from Tarkov is getting more and more interesting with its regular updates. I would stick to my suggestion above that you go for the recommended system requirements if you want to get the ultimate gaming experience.
Abdullah Tariq, the founder of this site, is a passionate gamer and loves sharing his knowledge about gaming hardware and accessories. He is also a software engineer whose ultimate goal is to develop gripping titles.