Before I spell out F1 2020 system requirements let me point out that with every new release, programmers make sure that the standard of the game is taken to a new level. This brings more features and hand full requirements for the game; same is the case with Formula one.
Before installation of the game it is in best interest to know whether your pc can support the game or not
F1 2020 System Requirements:
These are the requirements for F1 2020 which you can compare with your PC, both Minimum and Recommended are mentioned, Have a look!
F1 2020 System Requirements Minimum
If these requirements match your pc, then you are in luck. You can play Formula one on your pc, but the game won't reach the high level of specs I was made for.
| | |
| --- | --- |
| OPERATING SYSTEM | Windows 10 (64-bit) |
| CPU / PROCESSOR | Intel Core i3-2130 or AMD FX – 4300 |
| RAM | 8 GB Memory |
| GPU | NVIDIA GeForce GT 640 or AMD HD 7750 |
| VRAM | 1 GB |
| FREE DISK SPACE | 80 GB Free Storage Space |
| DIRECT X | 11 |
F1 2020 Minimum Requirements
Also check out: F1 Manager tips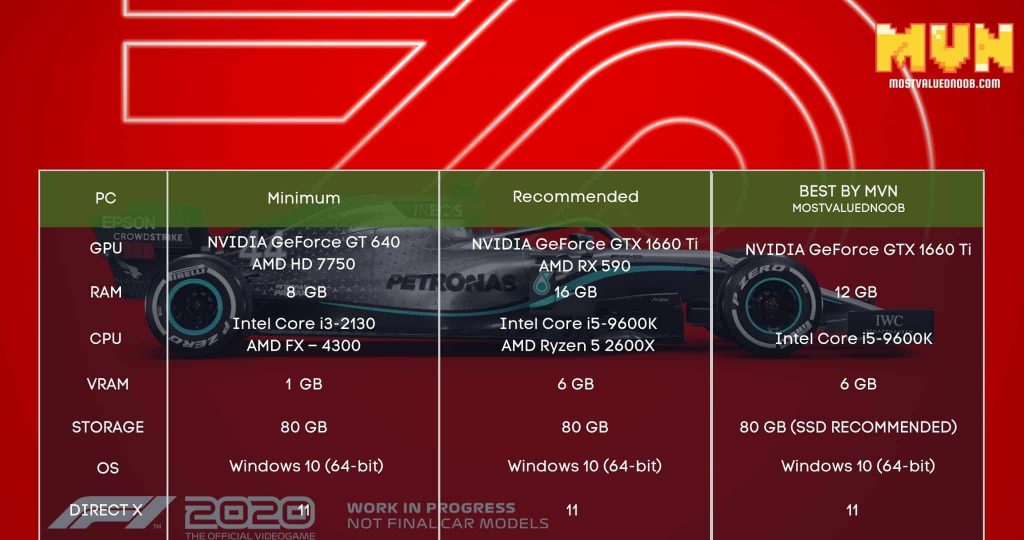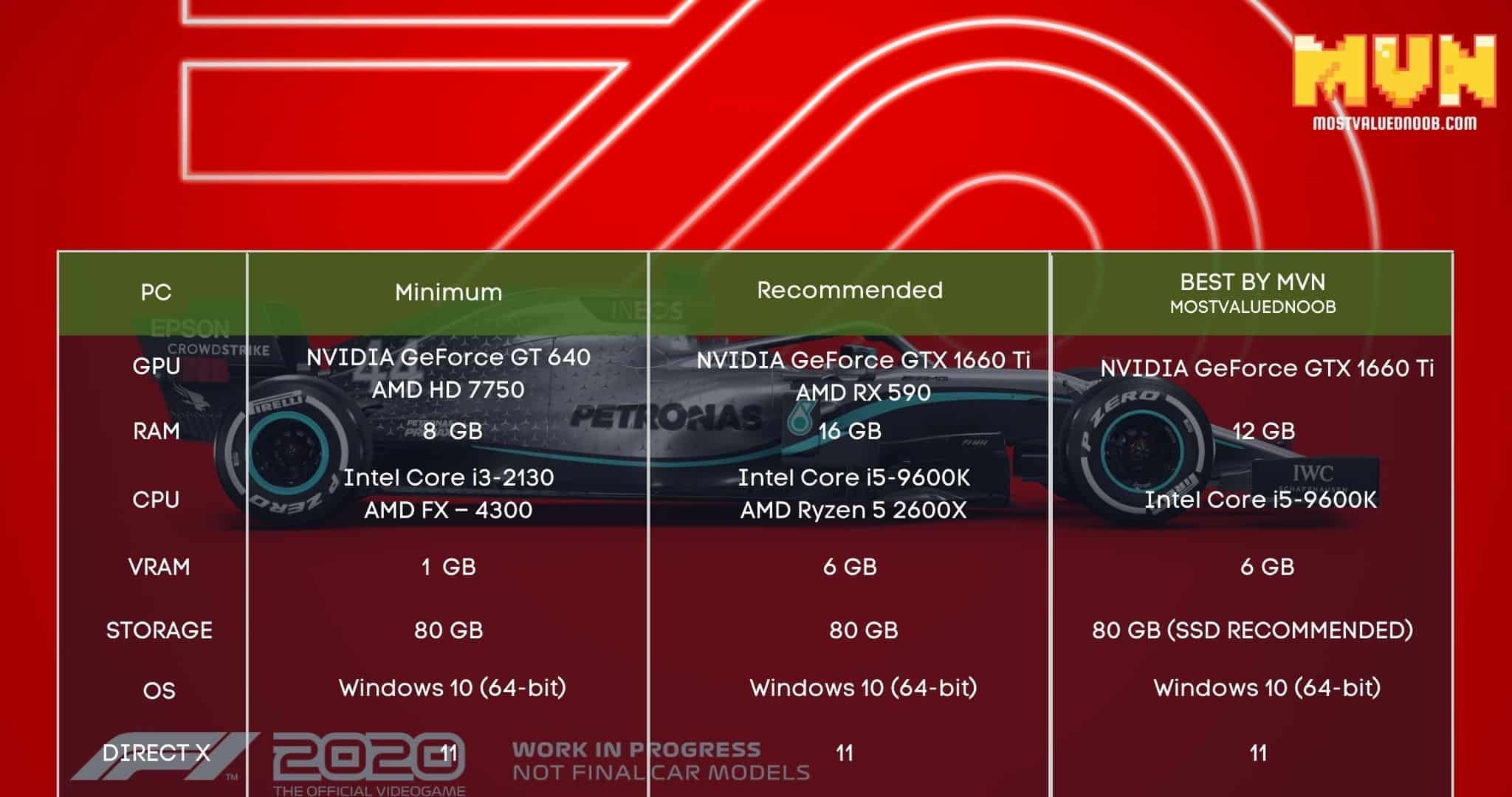 F1 2020 Recommended System Requirements
If your pc matches all the requirements bellow, then you are in luck, you can enjoy high level game play and greater specs.
| | |
| --- | --- |
| OPERATING SYSTEM | Windows 10 (64-bit) |
| CPU / PROCESSOR | Intel Core i5-9600K or AMD Ryzen 5 2600X |
| RAM | 16 GB Memory |
| GPU | NVIDIA GeForce GTX 1660 Ti or AMD RX 590 |
| VRAM | 6 GB |
| FREE DISK SPACE | 80 GB Free Storage Space |
| DIRECT X | 12 |
F1 2020 Recommended Requirements
Can I run FORMULA ONE 2020?
There are two ways to run this game. One is at its best and other is playing it just to have fun. For the best possible experience, you should make sure about a few things.
The minimum requirement of graphic card is equivalent to AMD Radeon HD 7750, however, the recommended one is AMD Radeon RX 590 to run at higher settings. Running the game on Ryzen 5 2600X, 6 core 3.6 GHz processor or on core i5 9600K 6 core 3.7 GHz will help you enjoy high specs and 1080p game play.
It is recommended to have memory of 8 GB RAM, but if possible, gamers may install 16 GB RAM for even better performance. The game can also run on core i3-2130 3.4 GHz and Fx-4300 processor, but it will only support 720p display.
Controller and wheel:
Nobody here wants to play this game with a mouse and a key board. Two suitable options will be a wheel and controller. If one is looking for much lively experience, a wheel is highly recommended for them. It will make the game easier and more fun. Logitech G29 with 920 degree rotation is the highly recommended as it has good build quality and is also compatible with the game.
However, a bit compromised option is a controller. It is pretty easy to set up, but the only thing one should be concerned with, is "steering linearity". It means the movement of wheels depending on movement of joystick, so one must adjust it depending on their comfort.
About the game:
Formula one world's champion is, in general, a motor racing champion ship among formula one car. The 2020 version of the game is much more comprehensive and has much more features than the rest formula one games yet.
In the following addition players can create their own teams, choose sponsors and engine supplier. They can hire a teammate and compete as the 11th team on the grid.
Players can also customize their 10 year career mode with the choice of F2 championship. Furthermore the option also allows you to choose more exciting multiple careers. Split screen racing allows players to enjoy game with friends, without exception of the skill level.
It features all official teams, drivers and 22 circuits, along with 2 new racers Hanoi circuit and circuit Zandvoort.
| | |
| --- | --- |
| Release Date | 6th July 2020 |
| Genre | Formula 1 Racing |
| Developers | Codemasters and Swordfish Studio |
| Publisher | Codemasters |
| Compatible | Windows 10, IOS 11.0, PS4 and XBOX ONE |
FAQS:
Is FORMULA ONE 2020 worth buying?
FORMULA ONE is one of the finest and the most played game of the franchise yet. With an upgrade the game comes with many new exciting features which previous versions were deprived of.
Is FORMULA ONE 2020 free on PC?
Code master official games are providing you with a free comprehensive version of the game with both new racers to play with. It also includes two new 11th team time trials.
Does FORMULA ONE require internet connection?
The game play does not require net connection, however online connection will be required to download the final teams 2020 cars and F2 2020 season content.
What is the difference between FORMULA ONE 2019 and FORMULA ONE 2020?
There are many new options in the 2020 version which are each built on new modes. There is a major difference between the game play of 2020 version and 2019 one, as the 2020 one is and improved model of 2019 version. It has better specs and the game play is more enhanced.
Conclusion:
The game is enriched with graphics and is better off to be played at the recommended requirement to have best experience.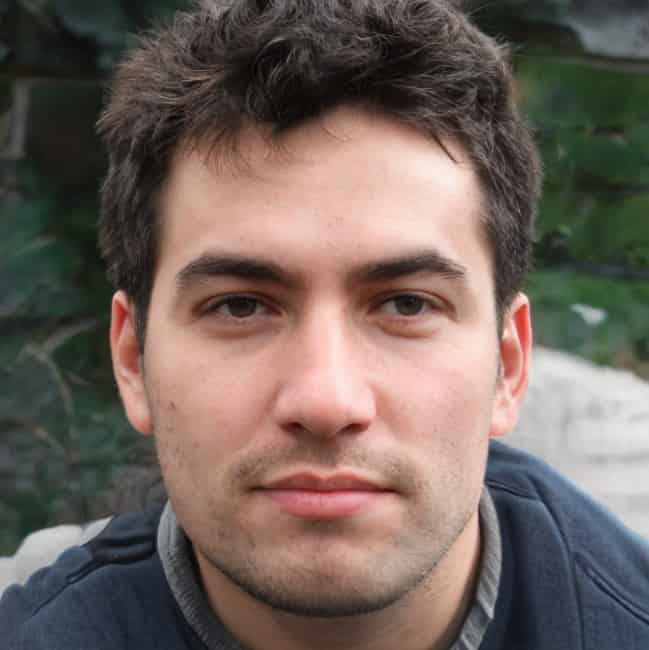 Ralph is a gamer who has practically lived the past 10 years playing games day and night. He has a rich experience of gaming and loves to share his insight on various games through his articles on this site. As the content manager at MostValuedNoob.com, Ralph loves to share his views about different aspects of various games.