Rocket League system requirements can be termed as low-medium. This game is not very demanding and it can be played easily on your PC.
Let's have a look at what the precise system requirements are for this game…
Rocket League System Requirements
Here are the minimum system requirements first:
Rocket League Minimum System Requirements
| | |
| --- | --- |
| OPERATING SYSTEM | Windows 7/8/8.1/10 (64-bit) |
| CPU / PROCESSOR | Intel/AMD Dual-core 2.5 GHz or higher |
| RAM | 4 GB Memory |
| GPU | NVIDIA GeForce GTX 760 or AMD Radeon R7 270X |
| VRAM | 2 GB |
| FREE DISK SPACE | 20 GB Free Storage Space |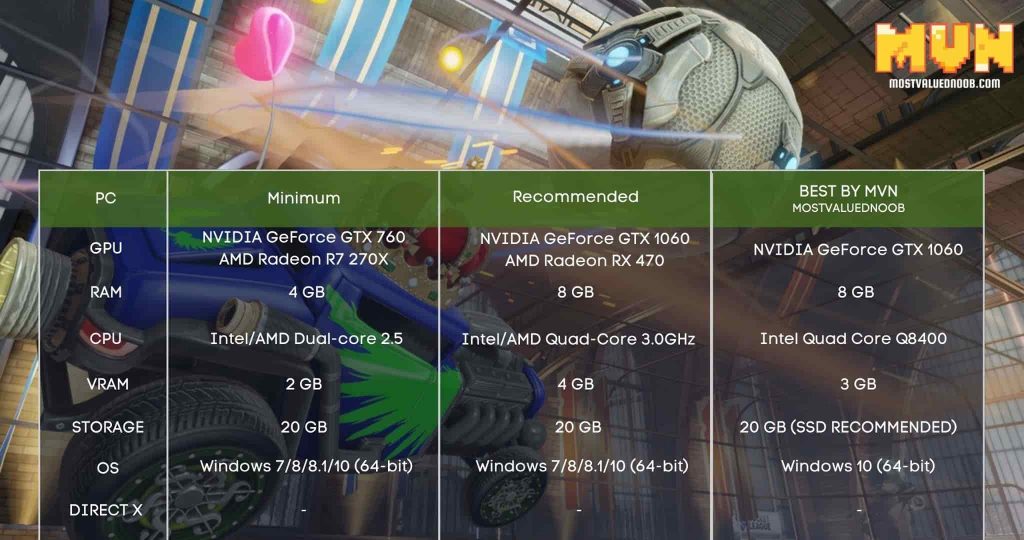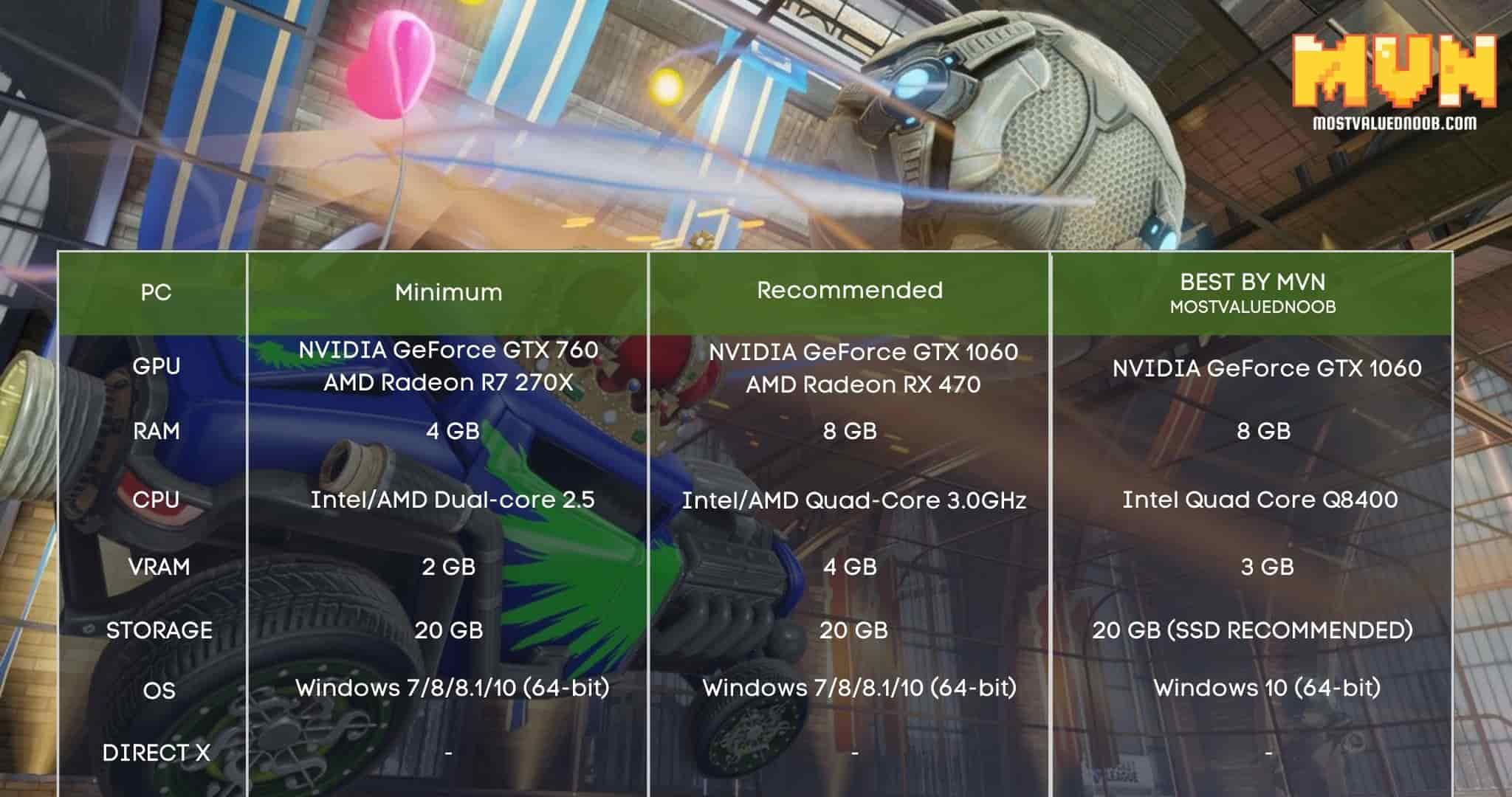 As you can see the minimum system requirements are not really demanding. However, what you need to be aware of is that most companies tend to understate such requirements in order to get a larger number of players. So, the best approach is to go for the recommended system requirements which are listed below:
Rocket League Recommended System Requirements
| | |
| --- | --- |
| OPERATING SYSTEM | Windows 7/8/8.1/10 (64-bit) |
| CPU / PROCESSOR | Intel/AMD Quad-Core 3.0 |
| RAM | 8 GB Memory |
| GPU | NVIDIA GeForce GTX 1060 or AMD Radeon RX 470 |
| VRAM | 3 GB |
| FREE DISK SPACE | 20 GB Free Storage Space (SSD RECOMMENDED) |
Check out: Forza Horizon 4 PC Requirements
Optimal Hardware Suggestions
Rocket League is quite a popular game and what is great about is it that it's not very taxing on your PC. In simple words, it is not really challenging a game to run on your PC. Having said that, I would like to mention here that since it is a game that belongs to the sports genre, your system should support stable framerates. But again, the system requirements are quite low and you should be able to achieve a good framerate easily.
I would like to reiterate the fact that minimum requirements are not the best option to ensure smooth gameplay. You must opt for the recommended specifications and by doing so you should be able to achieve a stable 60 FPS.
Rocket League Game Details
Let's talk about the game now…
Date of Release
7th July 2015 – PC, Playstation 4
17th Feb 2016 – Xbox One
8th Sep 2016- macOS, Linux
14th Nov 2017 – Nintendo Switch
System Requirements
Low-Medium

Genre
Sports
Developer
Psyonix
Publisher
Psyonix
As is clear from the table above, the Rocket League got released in phases. Initially, it was launched for PC and Playstation 4 and the next year it was released for Xbox one, which was again followed by macOS and Linux versions. Nintendo Switch was the last version to be released in 2017.
This is a game that is much like soccer except for the fact that instead of the ball, cars are used in it. The core of the game is to score goals using rocker-powered vehicles that run at great speeds and are capable of performing daring stunts.
What makes the game so interesting is that the vehicles can jump, drive on walls and even on the ceiling and the players indulge in great competition to beat one another. Another interesting feature is that cross-platform play is also possible between systems that allow players to find matches almost instantly.
Matches between players can last as long as five minutes and there is an added sudden death feature which can help decide the winner in case there's a tie of scores.
To make things even more interesting, it is possible to have matches in 1v1 and up to 4v4 configurations.
Besides this, there is a ranking system which plays a pivotal role in keeping matches competitive.
FAQs
Can I run Rocket League on my PC?
Yes. As a matter of fact, the system requirements are quite low for this game. You can run it provided your system is on Windows 7 or upwards, which most systems are now these days.
What is the size of Rocket League?
It is not heavy in terms of size. All you need is just 2 GB of RAM and 7 GB of HDD space. However, for smoother play, it is recommended that your system should have at least 4 GB of RAM.
Conclusion
Rocket League is quite popular with players around the world. If you want to play it with a decent framerate, then you should try to adhere to the recommended system requirements mentioned above.
Abdullah Tariq, the founder of this site, is a passionate gamer and loves sharing his knowledge about gaming hardware and accessories. He is also a software engineer whose ultimate goal is to develop gripping titles.