Looking for the Apex Legends System Requirements?
Before I list the exact system requirements for you to play this game on your PC, let's find out a little bit more about what is game is all about…
What is Apex Legends?
Apex Legends is a free to play game from Respawn. It happens to be one of the most popular battle royal games and has a huge following all over the world. Since it's initial launch, it has gone through a lot of updates and as a result it seems to have grown tremendously in popularity over the past few years. You can play it on any one of the gaming consoles and it can also be downloaded on a Windows PC. This makes it even more popular among avid gamers.
Apex Legends System Requirements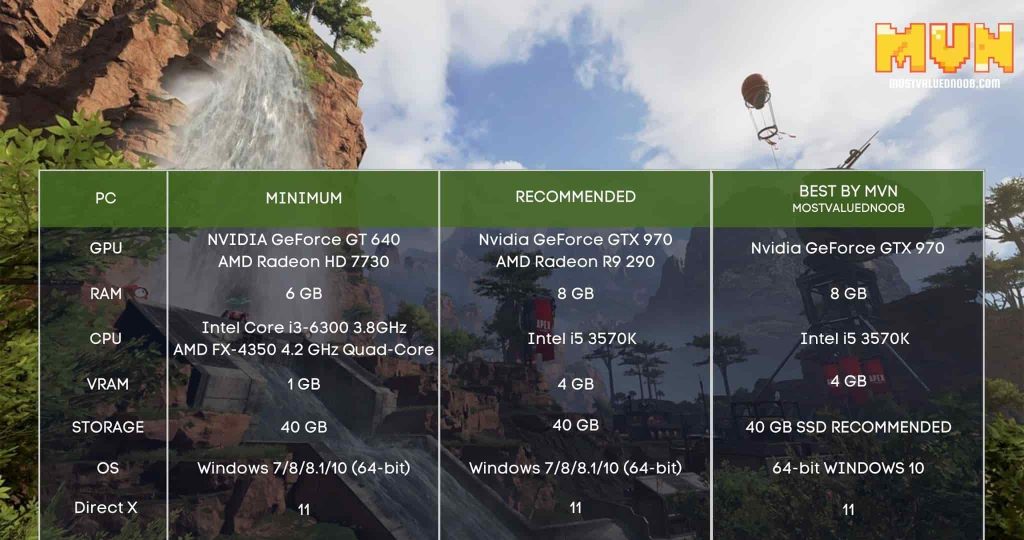 Before you try to play this title on your computer, you must make sure that it meets all the system requirements and is compatible to play the game smoothly. Let's check out the minimum and recommended settings to play this game…
Check out: Overwatch 2 PC Requirements
Apex Legends Minimum requirements
Even though Apex Legends is a graphic- intensive game, you would be pleased to known that it does not require high hardware configuration on your system. Here are the minimum system requirements that your PC must adhere to:
| | |
| --- | --- |
| OPERATING SYSTEM | Windows 7/8/8.1/10 (64-bit) |
| CPU | Intel Core i3-6300 3.8GHz or AMD FX-4350 4.2 GHz Quad-Core Processor |
| RAM | 6 GB Memory |
| GPU | NVIDIA GeForce GT 640 or Radeon HD 7730 |
| VRAM | 1 GB |
| DIRECT X | 11.0 |
| FREE DISK SPACE | 40 GB Free Storage Space |
Apex Legends Recommended PC Requirements
Apex Legends is an FPS game and for such games minimum settings often fall short. One of the major problems that could occur is that you might experience lags that can spoil the whole experience and may also affect your skill as a player in the game.
In such a case, it is always better to opt for the recommended settings. Here are Apex Legends Recommended System Requirements:
| | |
| --- | --- |
| OPERATING SYSTEM | Windows 7/8/8.1/10 (64-bit) |
| CPU | Intel i5 3570K or higher |
| RAM | 8 GB Memory |
| GPU | Nvidia GeForce GTX 970 or AMD Radeon R9 290 |
| VRAM | 4 GB |
| DIRECT X | 11.0 |
| FREE DISK SPACE | 40 GB Free Storage Space |
Apex Legends download size
It is important to note that even though the company mentions the minimum and recommended storage space of 22 GB on the official website for the game Apex Legends, my persona experience suggests that it is simply not enough.
What you need to understand is that the game was initially launched at just 22 GB, regular updates have increased this requirements and the current version needs you to have about 40 GB of hard disk space to run and install.
Apex Legends download – How to Download this game?
Here are some simple steps to download Apex Legends on your desktop or laptop:
This game is downloadable from EA's original website. Here's the link to the site.
Once you download the game, install the launcher and run it as per the instructions shown on your screen.
Now, you need to log into your EA account. If you don't have one, you can easily create one.
Once you are logged in, use the browse option to look for Apex Legends.
When you are able to find the title Apex Legends, click on the title and hit on "Add to Library"
Once you do that, you will see "Download with Origin" appear on the screen. Tap on it and once it is downloaded, you can easily launch it.
Now that it is downloaded on your PC, you can access the game from "My Game Library" tab. any time you want.
FAQs
Can I run Apex Legends with a 4 GB RAM?
The minimum system requirements require 6 GB RAM at low settings. However, if you have a large pagefile and are running on minimum settings, you can actually run it with 4 GB RAM. Having said that, it does not mean you won;t face certain issues with regards to graphics and lags.
is 8 GB RAM enough for Apex Legends?
Yes! As a matter of fact, 8 GB is more than to run the smoothly. Having said that, you system must also meet the system requirements (recommended) mentioned above.
Is Apex Legends hard to win?
Yes, actually it can be pretty tough and this is true especially when you are playing the game against more experienced players. However, you should see better results as you play the game regularly.
Conclusion
Apex Legends is quite popular and is really demanding in terms of system requirements. However, you must try to have the desired recommended settings to ensure a good and smooth play.
Abdullah Tariq, the founder of this site, is a passionate gamer and loves sharing his knowledge about gaming hardware and accessories. He is also a software engineer whose ultimate goal is to develop gripping titles.