Looking for Forza Horizon 5 System Requirements?
If so, you are going to find here find what you are looking for. Forza Horizon 5 is a highly anticipated game and it is expected to launch in November 2021. Till then you can enjoy any other game from the series, like Forza Motorsport 7.
Having said that we are listing system requirements for this game and shall update them when the game actually launches.
Forza Horizon 5 System Requirements
The system requirements for Forza Horizon 5 are segregated into two main categories that include minimum and recommended.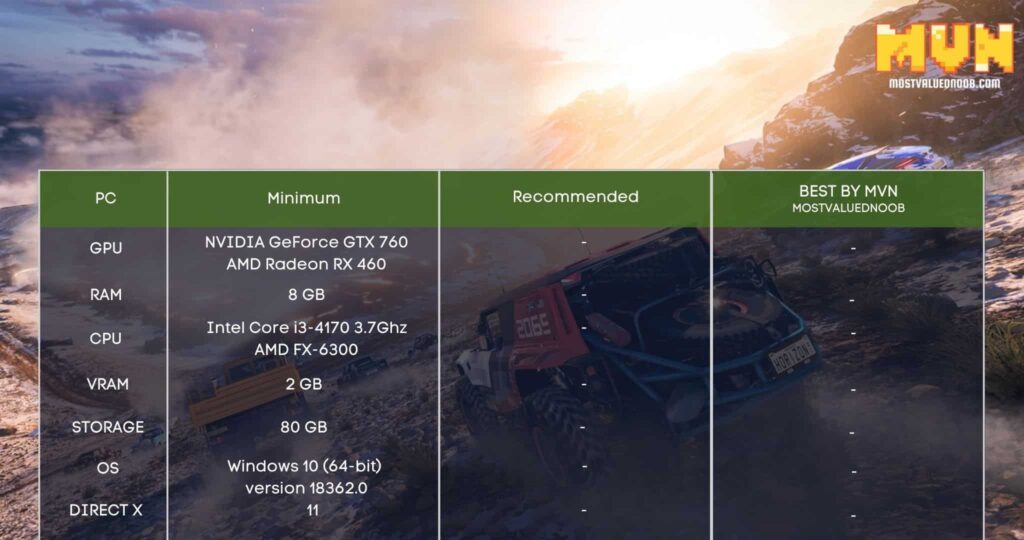 Forza Horizon 5 System Requirements – Minimum
Here are the minimum system requirements that you need in order to run this game. However, what you need to keep in mind is that more often than not, these specifications fail to give you a smooth playing experience. They are barely enough to run the game and it is quite possible that you might experience lags with these specifications.
| | |
| --- | --- |
| OPERATING SYSTEM | Windows 10 (64-bit) version 18362.0 or higher |
| CPU / PROCESSOR | Intel Core i3-4170 3.7Ghz / AMD FX-6300 |
| RAM | 8 GB Memory |
| GPU | NVIDIA GeForce GTX 760 or AMD Radeon RX 460 or better |
| VRAM | 2 GB |
| FREE DISK SPACE | 80 GB Free Storage Space |
| DIRECT X | 11 |
This game is likely to have low system requirements and you would need Windows 10 to run this game. Moreover, your system should be running on Intel Core i5 or upwards.
Forza Horizon 5 System Requirements – Recommended
Since the game has no been launched till now and it is a couple of months away from launch, there are no recommended system requirements at this point of time.
As the company launches the game in November 2021, it will also specify the recommended system requirements so that gamers all over the world can play this game without any issues.
I would like to mention here that if we are to go by the past few editions of the game including Forza Horizon 4 and 3, this game is also not going to be very demanding as far as system specifications are concerned.
Watch this space for more – We shall update this section with the recommended system specifications with the launch of the game later sometime in 2021.
FAQs
Will there be a Forza Horizon 5?
Going by the success of Forza Horizon 3 and 4, there's a lot of anticipation with regards to Forza Horizon 5 and the good news for its fans is that it is expected to be launched on November 9, 2021, as confirmed by Microsoft and developers Playground Games.
Where will Forza Horizon 5 be set?
This version of the game is going to be set in the sunny Mexico. It can been clearly specified by the developers that Forza Horizon 5 is taking you on a journey through the wilds of Mexico. I think it's going to be pretty exciting.
Is Forza Horizon 5 on PC?
Forza Horizon 5 is highly anticipated and it is likely to be there for PC as well. It is known that this game is going to be launched on Xbox Series X|S and Xbox One consoles; PC on Windows 10 and Steam; Xbox Game Pass and Xbox Game Pass Ultimate, and on Android phones and tablets via Xbox Cloud Gaming (Beta).
Conclusion
There's a lot of anticipation and excitement for the launch of Forza Horizon 5 and if are to go by the previous versions, this one is going to be highly popular too.
Check out More on Forza:
Abdullah Tariq, the founder of this site, is a passionate gamer and loves sharing his knowledge about gaming hardware and accessories. He is also a software engineer whose ultimate goal is to develop gripping titles.