Forza Motorsport 7 is quite a popular game and it is but natural that a lot of people search for Forza 7 Motorsport system requirements.
Launched back in 2017, this is a car racing game that is popular even today. The game is from the popular series "Forza", the latest game from this series is Forza Horizon 5.
Before I delve into the details about this game, let's talk about its system requirements.
Forza Motorsport 7 System Requirements
Surprisingly, Forza Motorsport 7 is not a very demanding game when it comes to system requirements. You will find system requirements segregated into two main categories here that include minimum and recommended.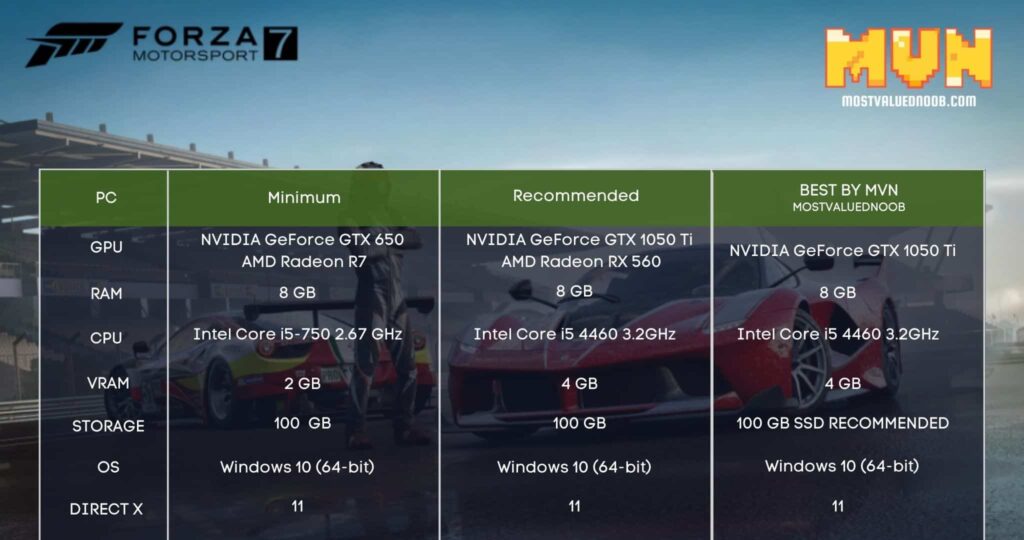 Forza Motorsport 7 Minimum System Requirements
Here are minimum system requirements that are barely enough to run the game. You don't have to expect smooth performance at these configurations.
| | |
| --- | --- |
| OPERATING SYSTEM | Windows 10 (64-bit) |
| CPU / PROCESSOR | Intel Core i5-750 2.67 GHz |
| RAM | 8 GB Memory |
| GPU | NVIDIA GeForce GT 740 or NVIDIA GeForce GTX 650 or AMD Radeon R7 250X |
| VRAM | 2 GB |
| FREE DISK SPACE | 100 GB Free Storage Space |
| DIRECT X | 11 |
At these system settings, it is quite possible that you might experience lagging.
Forza Motorsport 7 Recommended System Requirements
| | |
| --- | --- |
| OPERATING SYSTEM | Windows 10 (64-bit) |
| CPU / PROCESSOR | Intel Core i5 4460 3.2GHz |
| RAM | 8 GB Memory |
| GPU | NVIDIA GeForce GTX 670 or NVIDIA GeForce GTX 1050 Ti or AMD Radeon RX 560 |
| VRAM | 4 GB |
| FREE DISK SPACE | 100 GB Free Storage Space |
| DIRECT X | 11 |
With these system configurations and higher, you should be able to play the game smoothly and enjoy it to the hilt.
Forza Motorsport 7 – About the Game
Let's talk about this so very popular game here.
As stated above, it was launched in 2017 and has gained widespread popularity like the previous versions. It features more than 700 cars and over 300 configurations. What makes it even more interesting is that you get to race across 30 locations. It not only includes Mugello Circuit (a favorite from Forza Motorsport 5) but also includes Dubai Autodrome, which happens to be the latest addition.
Moreover, this series includes player characters that are fully customizable. The thrill that you get while racing at high speeds in these circuits is simply unimaginable. No doubt, this is what has so many players hooked to this game.
FAQs
Can my PC run Forza Motorsport 7?
Yes. However, there are certain system requirements that it should adhere to. First of all, it should be running on Windows 10 64 bit and the CPU should be on at least Intel i5 4460 3.2GHz. Moreover, you should have at least 8 GB of RAM. For more requirements, check the table above.
How many GB is Forza Motrosport 7?
The download size of this game is 95.6 GB and you should have more than this space on HDD since you must need space for other apps and programs as well.
Why is Forza 7 so big?
Forza 7 is so big because it runs at 4k 60 FPS on Zbox One and I must say that these assets are massive.
Is Forza 6 or 7 better?
If you compare the two, Forza 7 is definitely better. It includes far brighter graphics along with rich textures that come with more detail and sharpness irrespective of the TV you play it on. Not just this, the long awaited inclusion of dynamic weather has also been done amazingly well. All these make Forza 7 better than Forza 6.
Can you sell cars in Forza 7?
Yes, that is possible. All you have to do is go to the garage and press select to choose a car. As you do so, a menu will pop up asking you to either switch or sell it. You have select sell it and then you should be able to dispose it off.
Conclusion
Forza Motorsport 7 is a highly thrilling and exciting race adventure game and the addition of the Dubai Autodrome has made it even more thrilling. To enjoy this game without any hiccups, make sure that your system in line with the recommended system requirements mentioned above.
More from Forza:
Abdullah Tariq, the founder of this site, is a passionate gamer and loves sharing his knowledge about gaming hardware and accessories. He is also a software engineer whose ultimate goal is to develop gripping titles.