Looking for Nier Automata System Requirements?
This is your one-stop search for all that you want to know about this game as far as the best and recommended system specifications are concerned for playing this game.
Most companies list out the minimum and recommend system specifications to play these games and it is no different when it comes to Nier Automata.
Before spelling out the actual game details, let me give you the system requirement, both minimum and recommended for this game.
Nier Automata System Requirements
Square Enix (the company that has developed and published this game) has listed minimum and recommended system requirements as follows.
Nier Automata System Requirements – Minimum
These are the minimum system specifications that your system must adhere to play this game:
Check out also: Genshin Impact System Requirements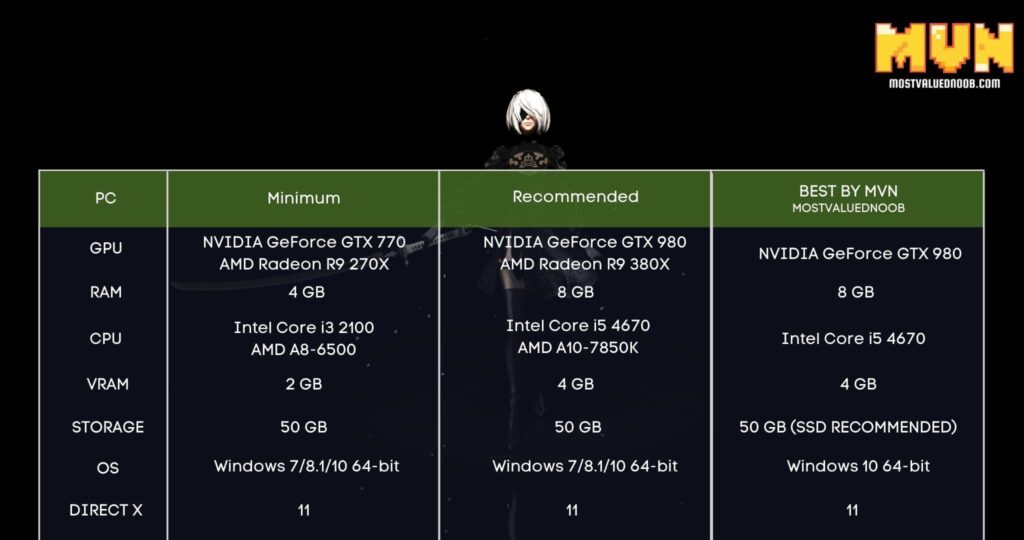 As you can make this game is not so demanding when it comes to system specifications. However, at these settings, it is quite possible that you might be able to get the ultimate gaming experience. This is what usually happens with minimum system requirements. Lags are quite common as these settings and thus, it is worthwhile to spare a look at the recommended system requirements listed by the company.
Nier Automata Recommended System Requirements
Here are the recommended system specifications to play this game smoothly:
| | |
| --- | --- |
| OPERATING SYSTEM | Windows 7/8.1/10 (64-bit) |
| CPU / PROCESSOR | Intel Core i5 4670 or AMD A10-7850K |
| RAM | 8 GB Memory |
| GPU | NVIDIA GeForce GTX 980 or AMD Radeon R9 380X |
| VRAM | 4 GB |
| FREE DISK SPACE | 50 GB Free Storage Space |
| DIRECT X | 11 |
Nier Automata – Game Details
Let's talk a little about the game here.
Nier Automate is a game that was published back in 2017 and it belongs to the Action/RPG genre. As a matter of fact, it is quite popular among gamers who love this genre. Moreover, it is not very demanding and the system requirements are supposed to fall within the low-medium range.
Nier Automata is the sequel to the popular Nier game. In this Action RPG game, players are required to take control of three androids as they fight against sentient machines.
| | |
| --- | --- |
| Date of Release | 17th March 2017 |
| System Requirements | Medium |
| Genre | Action/ RPG |
| Developer | Square Enix, PlatinumGames Inc. |
| Publisher | Square Enix |
Furthermore, Nier Replicant is another version of the game that has also been launched. Nier Replicant is supposed to be a prequel to Nier Automata and it is doing quite well. However, this is a game that is supposed to be apt only for those who are above the age of 18 since it consists of violent, sexually explicit content, and also uses expletives. In order to check Nier replicant system requirements, you can click here.
FAQs
Can my PC run Nier Automata?
This is one of the common questions being asked when it comes to Nier Automata. This game is not really demanding when it comes to system requirements. Your PC must be running at least on Windows 7 / 8.1 /10 (64-bit only) or upwards to play this game. For more specifications, you must check the article above.
Can I run Nier Automata without a graphics card?
Nope! I don't think there's any way to run this game without a graphics card. The minimum system requirements specify that you need at least NVIDIA GeForce GTX 980 VRAM 4GB / AMD Radeon R9 380X VRAM 4GBB to run this game. Moreover, the recommended system requirements clearly mention that you need NVIDIA GeForce GTX 980 VRAM 4GB / AMD Radeon R9 380X VRAM 4GBB for a flawless gaming experience.
How much RAM does Nier Automata need?
Well, minimum system requirements state that you need 4 GB of RAM to play this game but the recommended specifications mention it to be 8 GB. I would suggest that you go for 8 GB.
Should I play Nier before Automata?
Nier Automata is the sequel to Neir and it depends entirely upon you whether you want to begin with the original or go ahead with the sequel. However, I would like to mention that Automata builds upon the original game in every way possible. It is also worthwhile noting that the combat is much faster and is also supposed to be more pleasurable for most gamers/players.
Not just this, the story is easier to follow and it comes with dramatic turns and twists that make the game even more interesting.
Conclusion
Nier Automata is an interesting game and to play it well, you must go for the recommended system requirements.
Abdullah Tariq, the founder of this site, is a passionate gamer and loves sharing his knowledge about gaming hardware and accessories. He is also a software engineer whose ultimate goal is to develop gripping titles.