The video gaming industry has been snowballing and there is no slowing down forecasted in near future. With the total revenue generated $35.4 million in 2019, the number grew exponentially the other year. In 2021, the rise in value was projected at $45.5 billion!
The jaw-dropping stats bespoke that the industry is going to shoot further up and experience an upward trajectory, with no tilts down.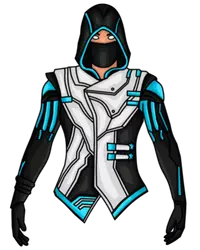 If you have been planning to step into this industry – you are on the right path! This creative industry has a shining and successful future. But, are you unsure of which sub-branch you'd like to make your career in?
Game development and game designing are two poles apart disciplines of the industry – but people fail to understand what is the difference between game design and game development.
Both of the fields are associated with one another but remain entirely different.
Sounds confusing?
Don't worry – by the end of the article, you'd be able to differentiate between both of the fields and have a clearer vision about which field to enter. Let's find out what developers and designers do.
Core Difference Between Game Designing and Game Development
Video Game Designing: It is one of the most critical parts of the game-building process. A game design process revolves around artistic approach and creativity to land a compelling game, that attracts the gamers at first sight, and keeps them engaged for a longer period.
Video Game Developing: It is an equally important part of the game-building process. This process is also sometimes known as the heart of the game development process. It requires transforming the creative idea into a playable game by writing great codes for it. You can find out how to get into game development by clicking here.
1. Degree Required
Video Game Designer: One needs to be highly proficient with graphic designing and need to have an aesthetic approach. A degree in multimedia, graphic designing, or a course in any other relevant domain would be helpful. It would also include adept knowledge of 2D and 3D animation.
Video Game Developer: A game developer needs to have a deep understanding of programming languages and technical skills. The best programming languages include C++ (for game development), Java, APIs, and many others. Familiarity with AI, terrain mapping, syncing joystick connection with the game is also required.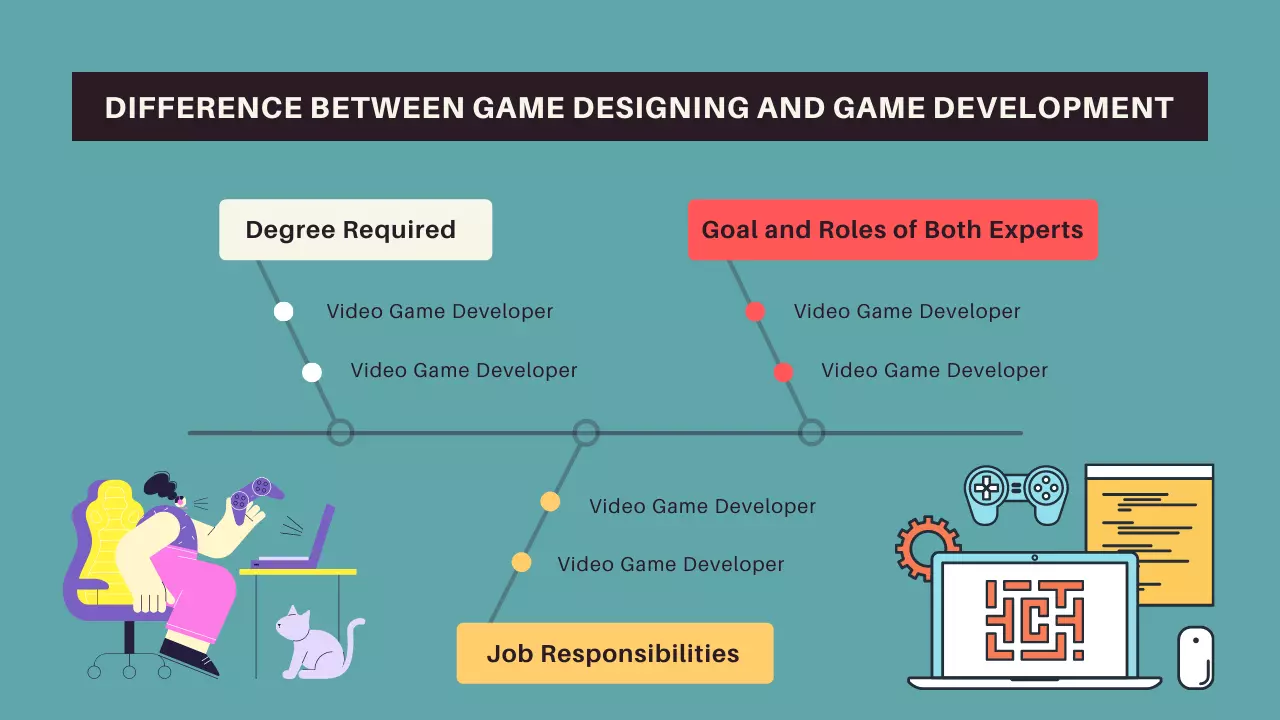 2. Goal and Roles of Both Experts
Video Game Designer: The main goal of the game design is to bring out the most innovative and creative idea and storyline for the game. The plot, and how the game would move forward, what will be the interface of the game, the characters of the game, the color scheme, and everything else that falls under the designing element.
Video Game Developer: The responsibility of the game developer is to make the game playable. They breathe life into the designs by writing codes for them. To do so successfully, a developer needs to possess a considerable amount of understanding of physics, computer sciences and dynamics. Their coding is responsible to identify the player's action and make the game respond accordingly.
3. Job Responsibilities
Video Game Designer: A game designer is expected to bring out the most innovative ideas to the table, coupled with a storyline and plot points. They also identify the characters, their movements, difficulty levels of the games and do the research to hook the target audience. Besides this, a game designer is liable to examine present games and find out the room for improvements and updates.
Video Game Developer: A game developer's job is to apply AI to the game and turn the designs and storyline into a playable game. By using their extensive knowledge about coding, they compose a set of codes for the design. Also, the developer works with the software development team to build software, which is bug and error-free.
I have listed some of the core attributes of each field, which makes both of them different from each other. However, both fields are somehow interconnected too. Neither of them can work without each other and plays an equal part in making a game playable.
Should One Enter Game Design and Development?
The gaming industry has been flourishing in leaps and bounds. Every year, the number is bigger than before, and hence, the importance doesn't seem like slowing down. You'd be shocked to know that the gaming industry left behind the music and movie industry a long ago!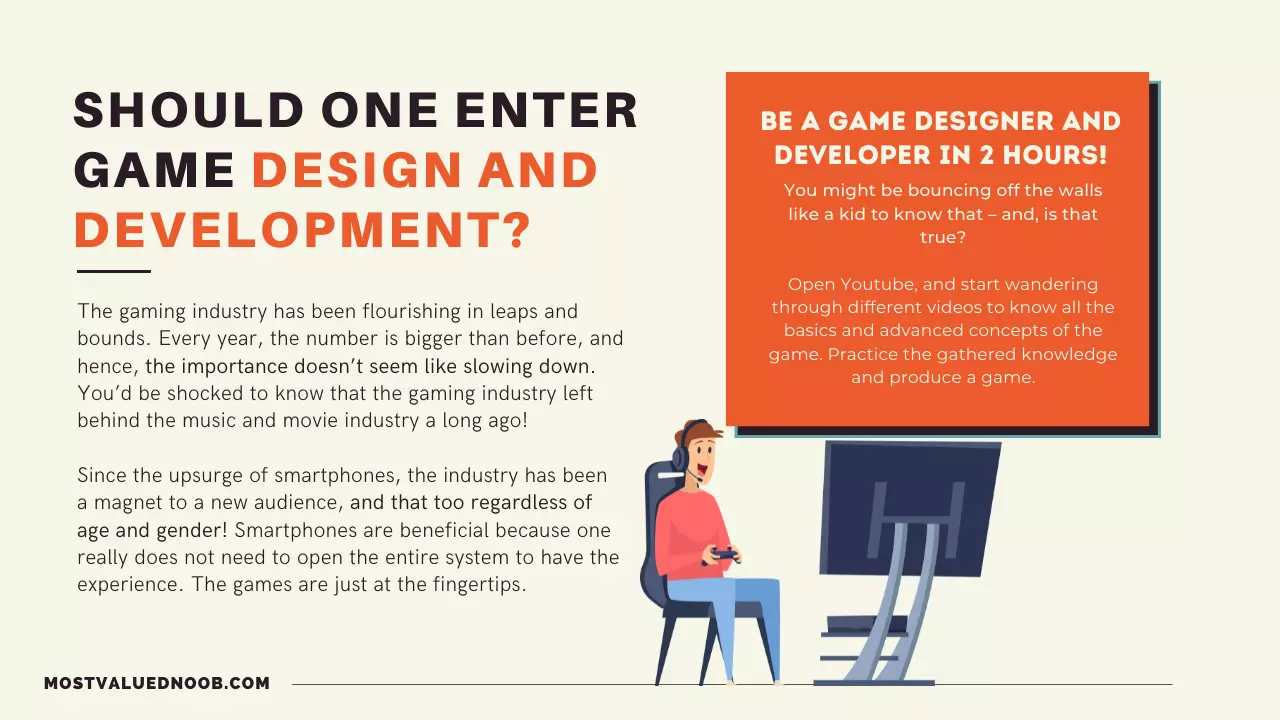 Since the upsurge of smartphones, the industry has been a magnet to a new audience, and that too regardless of age and gender! Smartphones are beneficial because one really does not need to open the entire system to have the experience. The games are just at the fingertips.
Undoubtedly, there is a big ocean of opportunities for the game. And, with passion, you can surely have all the limelight. Because breaking into this industry isn't a piece of cake! It can be very challenging unless you are really dedicated to the field.
Before you think to break into the field, be mindful that you'll be standing against EA, Blizzards, and many other famous game development companies. You really need to have a clear picture of your target audience, design, and market side by side.
Be A Game Designer and Developer in 2 Hours!
You might be bouncing off the walls like a kid to know that – and, is that true?
Open Youtube, and start wandering through different videos to know all the basics and advanced concepts of the game. Practice the gathered knowledge and produce a game.
By doing this, you'd be building a castle in the air! Yes. Youtube can be a backup for you to find out queries and resolve them. But to be professional and competent enough to withstand the market-leading game development agencies, you really need to have a postgraduate degree in the relevant field.
Compare a 4-year degree program with 2 hours session – or let's say it 4 hours! Do you think by learning through the limited videos on online platforms, you'd be able to defeat all those innovative heads who are being trained by the professionals of the industry?
Undeniably, the video game is a billion-dollar industry with huge room for growth in itself. There are limitless possibilities for those who have the dedication to move ahead in this field. The salary of the game designer and developer varies but is a big cheque for sure. If you are ready to go through the exciting journey of being a game developer or designer, consider getting your hands on a degree.
I am sure, you must have understood the difference between both these fields by now.
Explore More About Game Development:
Abdullah Tariq, the founder of this site, is a passionate gamer and loves sharing his knowledge about gaming hardware and accessories. He is also a software engineer whose ultimate goal is to develop gripping titles.