If you are looking for Hitman 3 System Requirements, you are at the right place. You can have a look at the requirements below in order to play the game smoothly and without any hiccups. At the onset, I would like to specify that you can play this game either at the minimum settings or at the recommended settings.
Now, when playing at the minimum settings, you are going to experience certain lags and a low framerate as compared to when playing at the recommended system requirements.
Hitman 3 System Requirements
So, without much ado, here are the system requirements for this game that is hugely popular with gamers around the world: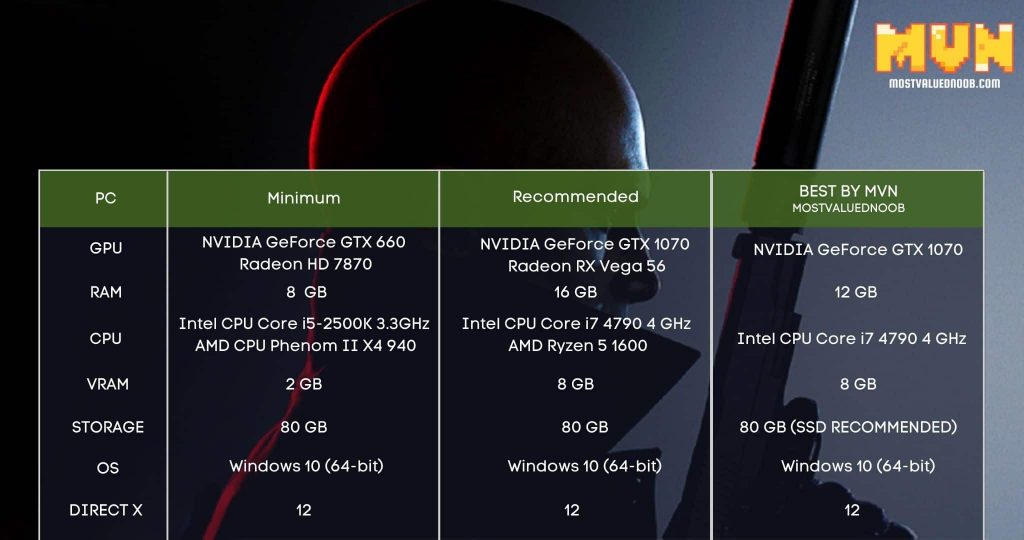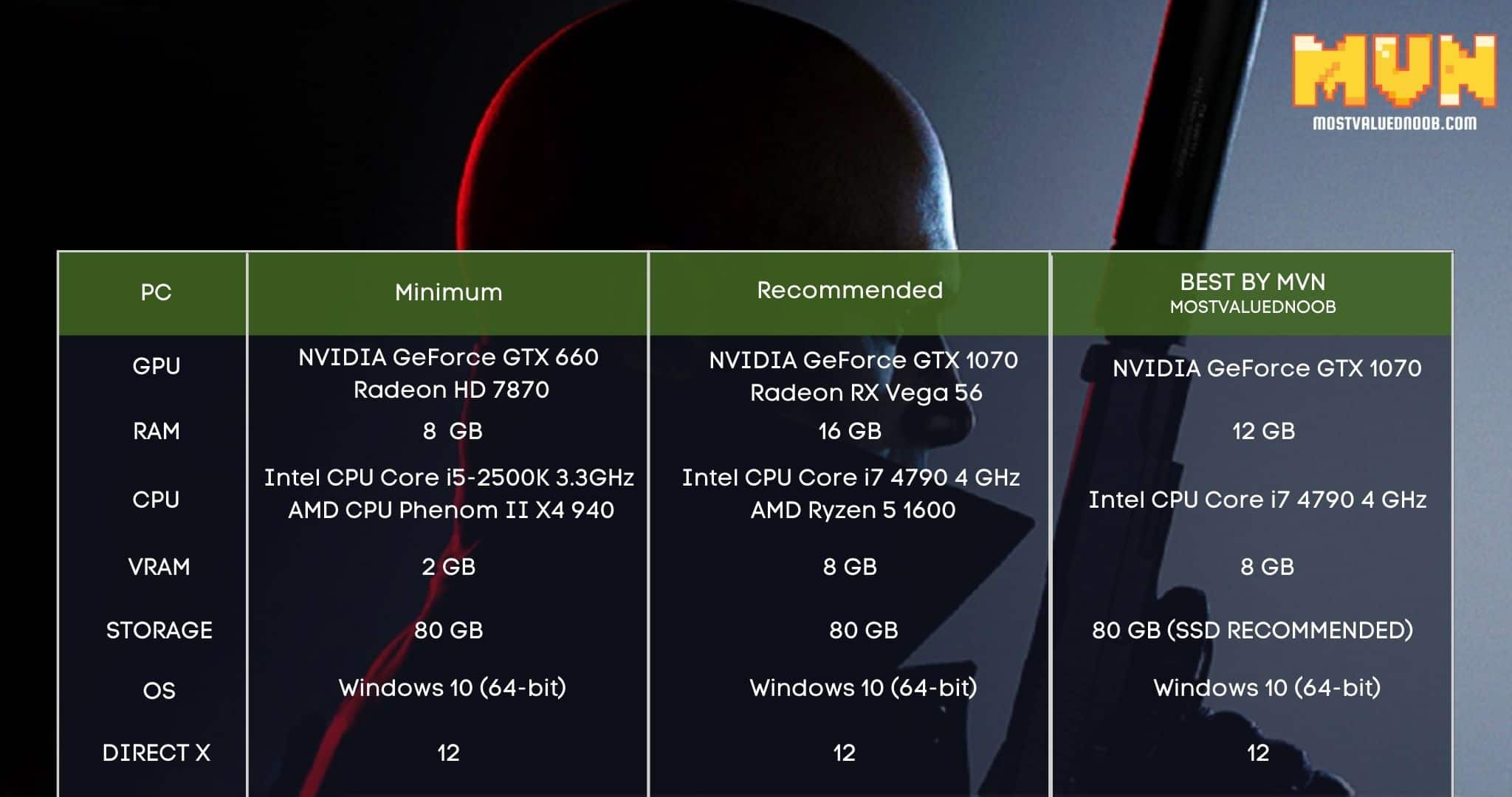 Hitman 3 Minimum System Requirements
| | |
| --- | --- |
| OPERATING SYSTEM | Windows 10 (64-bit) |
| CPU / PROCESSOR | Intel CPU Core i5-2500K 3.3GHz or AMD CPU Phenom II X4 940 |
| RAM | 8 GB Memory |
| GPU | NVIDIA GeForce GTX 660 or Radeon HD 7870 |
| VRAM | 2 GB |
| FREE DISK SPACE | 80 GB Free Storage Space |
| DIRECT X | 12 |
This is not a very demanding game as far as space is concerned. However, you need at least Windows 10, 64 bit to play this game. The minimum system requirements mentioned above can leave much to desire as far as your playing experience is concerned. What is a better choice, however, is that your system, should adhere to the recommended settings listed below:
You can also compare: Overwatch 2 system requirements
Hitman 3 Recommended System Requirements
| | |
| --- | --- |
| OPERATING SYSTEM | Windows 10 (64-bit) |
| CPU / PROCESSOR | Intel CPU Core i7 4790 4 GHz or AMD Ryzen 5 1600 |
| RAM | 16 GB Memory |
| GPU | NVIDIA GeForce GTX 1070 or Radeon RX Vega 56 |
| VRAM | 8 GB |
| FREE DISK SPACE | 80 GB Free Storage Space |
| DIRECT X | 12 |
Hitman 3 – About the Game
Hitman 3, as the name suggests, is the third chapter in the IO Interactive's World of Assassination series and it is supposed to be the last chapter of the series. It was released back in January 2021 for various platforms that include PC, PlayStation 4, PlayStation 5, Xbox One, Xbox Series X, Stadia.
Check out: Another Assassin from Valhalla
This is a game that has been developed and published by IO interactive. As far as system requirements are concerned, it is categorized in the medium range. What it means is that the requirements are not really high or demanding.
In short the summary for this game is listed below:
| | |
| --- | --- |
| Date of Release | January 2021 for all platforms |
| System Requirements | Medium |
| Genre | Action-Stealth |
| Developer | IO Interactive |
| Publisher | IO Interactive |
As stated above, it is likely to be the final chapter in the series and there's no information if there's going to be another sequel to it or not.
What is interesting is, however, that IO interactive seems to have gone solo with the production of this series. For the original series, they were with Square-Enix and for the release of Hitman 2, they had partnered with Warner Brothers.
While Hitman was released in 2016, Hitman 2 came up in 2018, almost two years later. Both the versions were highly exciting and gained a lot of popularity. These games belong to the the genre of Stealth games and they provided players with a lot of leeway to be creative as far as tackling missions is concerned.
Whether you want to work your way into the inner sanctum or want to stage an accident or maybe, take aim from a sniper rifle and make it look like a suicide, this is a game wherein you have a lot of freedom to do so and the best part is that you get rewarded for doing all these things.
Finally, you play the game as the deadly assassin Agent 47 in Hitman 3 and I must say that he seems to be far better than any other agent in the last two series. What makes him lethal is that he comes with the ability to quickly and discreetly take on the identity of anyone that he wishes to in order to get closer to his target.
Moreover, the writing is quite hilarious with the characters using rather silly lines that often highlight the absurdity of various subjects whether they relate to wealth inequality, or corporate power, or even political hypocrisy.
FAQs
How man GB is Hitman 3?
If you are talking about Hitman 3 Xbox series, then it is 61.76 GB. Xbox One X version is a little bit smaller at 60.1 GB. As far as the PC version is concerned, it is close to 55 GB. Last, but not the least, I would like to mention that you should have at least 80 GB of free space in order to make room for other apps and programs.
Is Hitman 3 a demanding game?
To be honest, I don't think Hitman is a demanding game. However, it cannot be called a low in terms of system requirements. I would rather say that it rangers somewhere in the middle when it comes to system requirements.
Can my system handle Hitman 3?
In order to run this game, your system's CPU should be at least Intel CPU Core i5-2500K 3.3GHz / AMD CPU Phenom II X4 940. However, it is recommended that your system should be on Intel Core i7 4790 4 GHz.
Conclusion
Hitman 3 is perhaps the most exciting version of the game in the series. I would suggest that you stick to the recommended settings or system requirements in order to enjoy the game without any hiccups.
Abdullah Tariq, the founder of this site, is a passionate gamer and loves sharing his knowledge about gaming hardware and accessories. He is also a software engineer whose ultimate goal is to develop gripping titles.