Looking for Roblox System Requirements?
Even though this is not a new game, it remains quite popular even today. Nonetheless, if you plan to play it on your PC, here are the system requirements, both minimum and recommended to ensure smooth play.
Roblox System Requirements
The system requirements for this game were officially listed by the company back in 2006 and thus, they seem to be quite outdated. To make things easier, I have listed the recommended settings that are more in tune with the current time.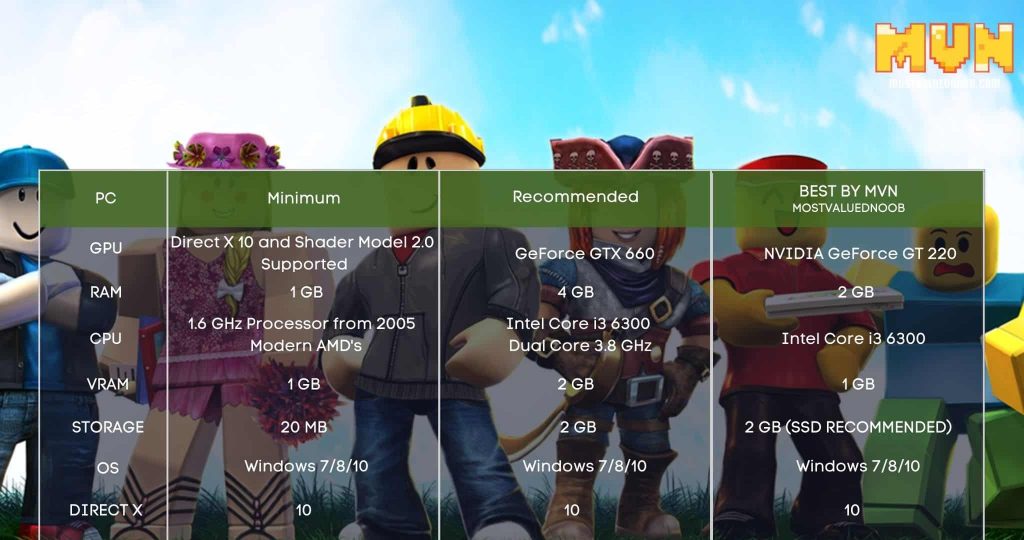 Roblox System Requirements – Minimum
| | |
| --- | --- |
| OPERATING SYSTEM | Windows7/8/10 |
| CPU / PROCESSOR | 1.6 GHz Processor from 2005 or later or Modern AMD's |
| RAM | 1 GB Memory |
| GPU | Direct X 10 and Shader Model 2.0 Supported |
| VRAM | 1 GB |
| FREE DISK SPACE | 20 MB Free Storage Space |
| DIRECT X | 10 |
You can also check: Fortnite System Requirements
At these system requirements, it is not possible to play the game smoothly. You are likely to experience lags and also a low framerate with these settings. The recommended system requirements mentioned below are however, more in tune with the times and can help you enjoy the game flawlessly:
Roblox System Requirements – Recommended
| | |
| --- | --- |
| OPERATING SYSTEM | Windows7/8/10 |
| CPU / PROCESSOR | Intel Core i3 6300 Dual Core 3.8 GHz |
| RAM | 4 GB Memory |
| GPU | GeForce GTX 660 |
| VRAM | 2 GB |
| FREE DISK SPACE | 2 GB Free Storage Space |
| DIRECT X | 10 |
You can also check: Valorant
Roblox – More About the Game
Released way back in 2006, Roblox is a game with low system requirements. It has been developed and published by Roblox Corporation.
| | |
| --- | --- |
| Date of Release | 1st September 2006 (Xbox One, Android, iOS, Mac OS, Fire OS, Microsoft Windows) |
| System Requirements | Low |
| Genre | MMORPG / Game Creation System / Online Social Platform |
| Developer | Roblox Corporation |
| Publisher | Roblox Corporation |
This is a unique game or a multi-genre gaming platform. What makes it stand apart from other games on the market is that user have the ability to create their own and also play the games created by other users.
This is a platform that is hugely popular among teenagers and over the years it has grown tremendously with new features being incorporated every now and then. It has grown to be an online social platform and now it is even possible to host live virtual music concerts on it.
FAQs
Can you play Roblox with 4 GB RAM?
Yes, you can. 4 GB is actually more than enough to play this game even though the recommended system requirements mention it has 8 GB.
Can Roblox run on i3?
Yes, you can Roblox on i3. The best part is that most new computers are more advanced, you can still play Roblox on a computer with i3 processor. It is not a very demanding game.
Is Roblox safe for kids?
Roblox comes with filters for checking inappropriate content that obscene images and profanity. Having said that, you can still have access to games that consist of content that falls within the definition of horror, murder, or bloody themes. Moreover, setting a child's age as 13 does not limit the games they can access.
Is Roblox 64 bit or 32 bit?
Roblox is a 32-bit program. In other words, it is compatible with 32-bit PCs.
Conclusion
Roblox is not a heavy game. As a matter of fact, it is one of those games that come within the parameter of low on system requirements. If your system adheres to the recommended system requirements, you can enjoy the game without any problems.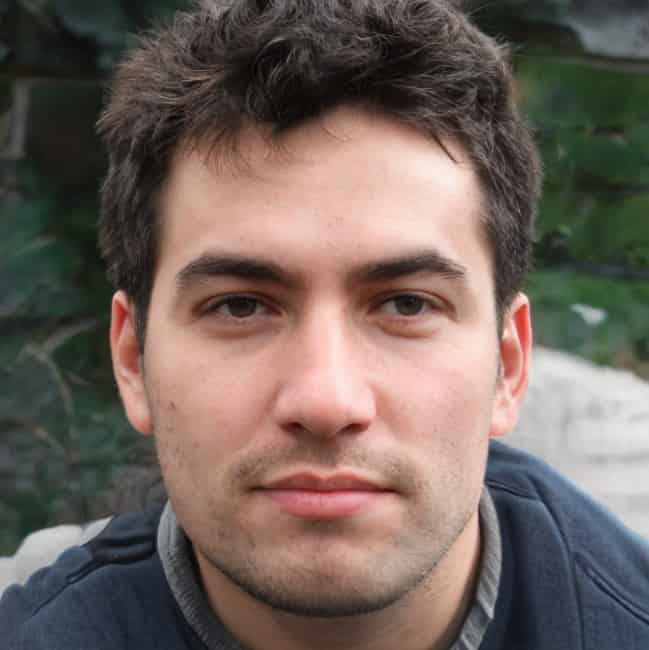 Ralph is a gamer who has practically lived the past 10 years playing games day and night. He has a rich experience of gaming and loves to share his insight on various games through his articles on this site. As the content manager at MostValuedNoob.com, Ralph loves to share his views about different aspects of various games.