Do you want to know more about Fortnite System Requirements?
If so, you are in the right place. Here, you will find out the minimum as well recommended Fortnight system requirements for both PC and Mac so that you can play the game smoothly.
However, before I spell out the system requirements, let's find out a little bit more about the game Fortnite.
If you are an avid gamer you must have noticed that the Battle Royale genre has experienced dramatic growth over the past couple of years and it all seems to have begun with PUBG. Even though PUBG became world popular, other games such as Fortnite and Call of Duty: Warzone soon took over the mantle and outgrew in popularity.
As far as Fortnite is concerned, it has not just grown in popularity but has also been able to stand its ground in the face of stiff competition from other games. Fortnite, developed by Epic Games, has done a commendable job in keeping its players hooked to the game with regular updates as far as content and crossovers are concerned. Also read, how to fix your mouse lag while playing Fortnite.
Fortnite System Requirements
Let's check out Fortnite System Requirements now…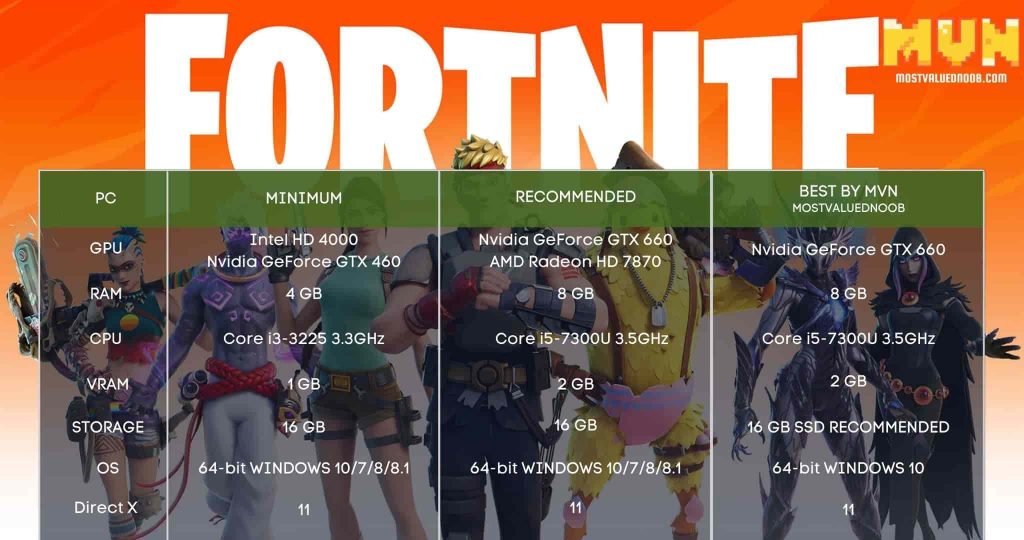 Fortnite Minimum Requirements
One of the best parts about Fortnite is that it is not much demanding when it comes to system requirements as compared to other games in this genre. This is one of the main reasons it has grown leaps and bounds in terms of popularity. As a matter of fact, if you decide to play it on low settings, then all you need is an i3 2.5 GHz CPU, 4GB of RAM, and Intel HD 4000 or higher.
Here are the minimum system requirements for Fortnite:
OPERATING SYSTEM: Windows 7/8/8.1/10 (64-bit) / Mojave 10.14.6
CPU / PROCESSOR: Intel Core i3-3225 3.3GHz
RAM: 4 GB Memory
GPU: Intel HD 4000 or Nvidia GeForce GTX 460
VRAM: 768 MB
FREE DISK SPACE: 16 GB available storage space
DIRECT X: Version 11 or better
Fortnite Recommended PC Requirements
Those who play at higher ranks prefer playing at a higher FPS. This is because it can make a significant difference in their gameplay. I must make it clear that the recommended settings are also not that high as per the current standards.
Here are recommended Fortnite System Requirements for PC:
OPERATING SYSTEM: Windows 7/8/8.1/10 (64-bit) / Mojave 10.14.6
CPU / PROCESSOR: Intel Core i5-7300U 3.5GHz
RAM: 8 GB Memory
GPU: Nvidia GeForce GTX 660 / AMD Radeon HD 7870
VRAM: 2 GB
FREE DISK SPACE: 16 GB available storage space
DIRECT X: Version 11 or better
You can also check: The PC requirements of Cyberpunk 2077
Which Laptop is Best for Fortnite?
Now, that you have been through the system requirements for Fortnite, you must be wondering which is the best gaming laptop for Fortnite?
There are a couple of options for you to choose from depending upon the budget as well as brand preference. While some gamers prefer a system running on Windows, others want to opt for a system running on Mac OS. Not just this, there could be other considerations such as the GPU, processor requirements, etc.
In order to make your task simpler, I have compiled a complete list of the best gaming laptops for Fortnite after comparing various models with regards to their features, price, etc., so that you can choose one that can help you play like a pro!
How to Download Fortnite on PC or Laptop
Epic Games offers a wide range of games and Fortnite happens to be one of the most popular ones among them. You can download it to your PC or laptop by creating an Epic Games account. I must mention here that the company provides regular discounts and other offers which you can use to download this game.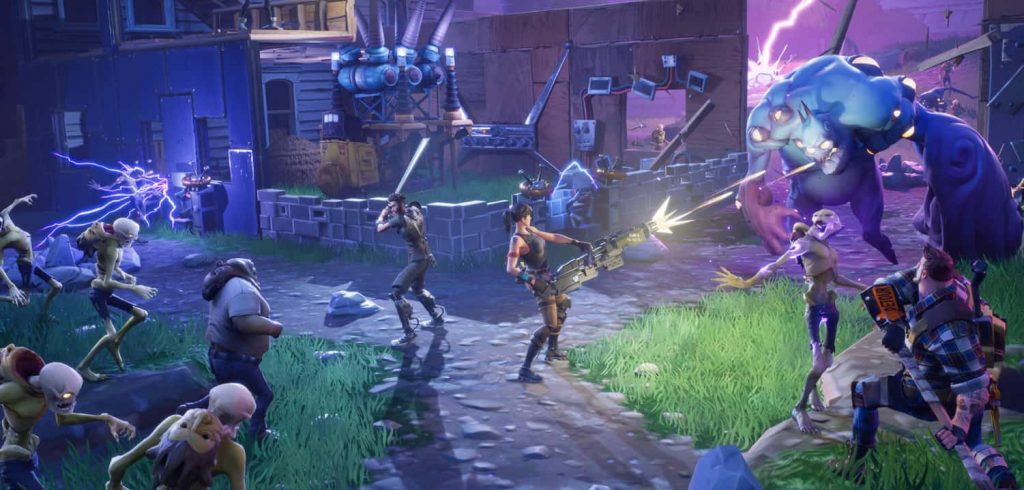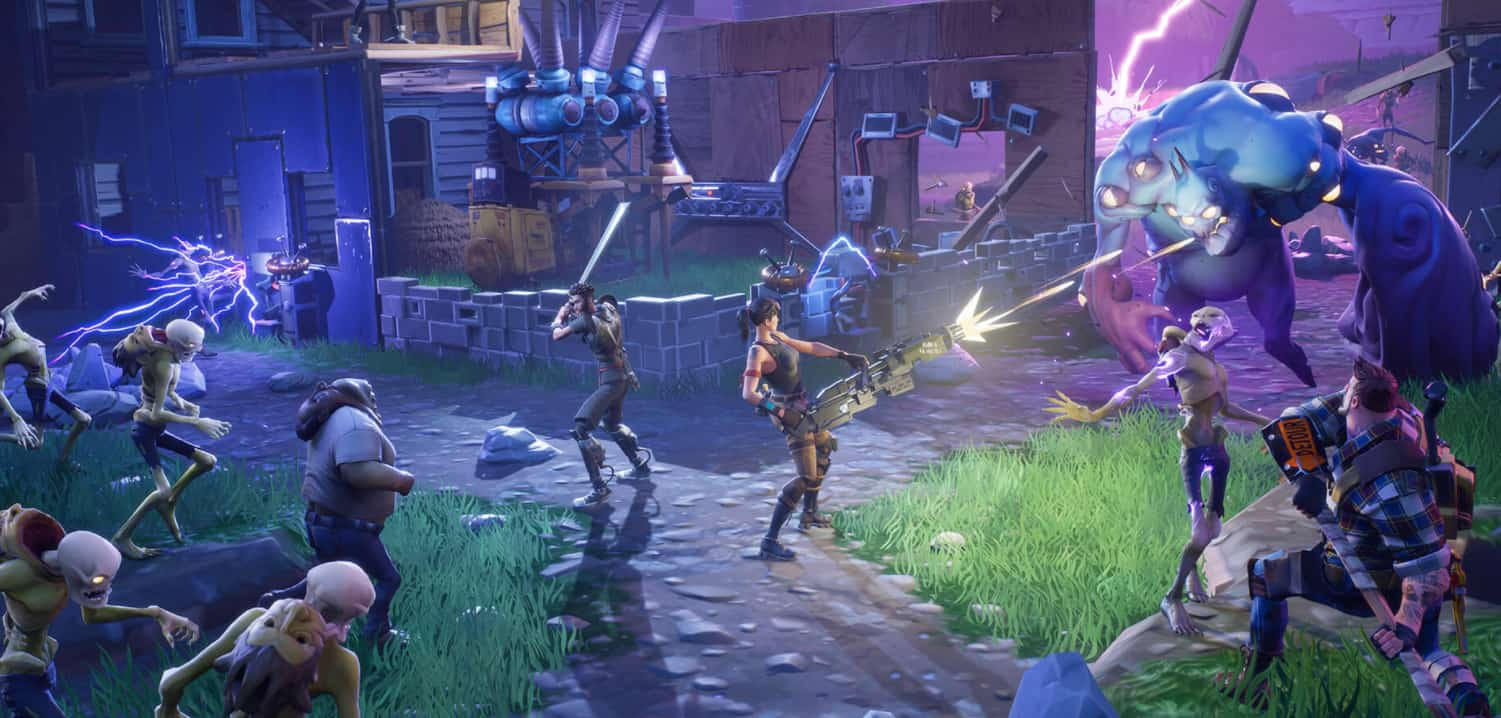 Here are some simple steps to do so…
First of all, you need to go to Epic Games Store website and click on Sign in.
Now, you need to click on Sign Up and create an account with Epic Games as per instructions. You can either fill in the desired information or you can also create an account using or Google account or other social handles such as Facebook.
Now, you need to go back to Epic Games Store website and click on Get Epic Games
This will begin downloading the Epic Games Launcher. Once it is done, you need to proceed as per the on-screen instructions.
After that, you have to login with your credentials and click on the Store tab.
Here you will have to search Fortnite and install the game.
Once you are down with downloading the game, you can go to the Library and play the game any time you want.
While playing the game, you would like to find out how to spectate in Fortnite so that you can be a better player than others. At the same time, you would like to find out more about the best Fortnite weapons that you can use to get an edge over other players.
How to Download Fortnite on Android
It is important to note that Fortnite was previously available on Google Play Store. When Epic Games began using its own in-game payment gateways, it was no longer available on Google Play Store. The current situation is that:
Samsung device holders can go to Galaxy Store App and download the game Fortnite from there.
Other Android users have to follow the given steps:
How to download Fortnite (Android users):
You have to go to fortnite.com/android on your phone's web browser or click here
Once you have done that simply click The Epic Games App
Click Ok and download it to your android device
Install the APK.
In the Epic Games App, search for Fortnite and install it.
Once it's installed, sign in or sign up with your credentials to play the game.
How to Download Fortnite on iOS
Your options are somehow limited when it comes to iOS. If you have not played it on your iOS device earlier, there's no way you can download this game. When Epic Games changed its in-game policy, App Store also removed it just like Google Play Store.
Moreover, there's no way to easily sideload apps on an IOS device. What is clear is that if you have not played it before on your iOS device, there's no way you can get to download it. If however, if you have played it before, you can go to the Purchased section of your App Store account and reinstall it from there.
Whatever device you play it on, it would be interesting to find out how to get better at Fortnite so that you can improve your performance as a player and even emerge as a winner. You can click on the link here to find out the best 18 ways to become a batter player at Fornite.
FAQs
Can I run Fortnite on 4 GB RAM?
Yes, the straightforward answer to this question is YES. When running the game on low settings the minimum requirement is 4GB of RAM.
Can I run Fortnite on i3 processor?
The minimum system requirement calls for a Core i3 3.3GHz to run Fortnite.
Can a core 2 duo run Fortnite?
Yes, you can if you meet all the other minimum requirements mentioned above.
Conclusion
Fortnite is an interesting game that has become extremely popular over the years. With the above system requirements (recommended) you can enjoy the game with full graphics smoothly.
Related Stuff about Fortnite:
Abdullah Tariq, the founder of this site, is a passionate gamer and loves sharing his knowledge about gaming hardware and accessories. He is also a software engineer whose ultimate goal is to develop gripping titles.