If you want to get better at Fortnite, it's important to know about the entire Fortnite Weapons Tier List consisting of weapons that can be lethal as well as useless so that you know which ones you should grab as soon as you get a chance.
Fortnite Weapons Tier List
It goes without saying that Fornite Chapter 2 Season 7 has been a complete game-changer. This season comes with one of the most awaited features, which is how to spectate in Fortnite.
Season 7 has got famous as well as popular for introducing so many changes to The Island. More importantly, it is the additions to the weapons pool that has made it an even bigger hit. This season is marked with the introduction of IO Tech weapons, four powerful and futuristic guns which can only be found in the high-tier chests and it can be real fun playing Fortnite on your gaming laptop and other devices.
This season seems to have really pushed things ahead making it even more lethal with many favorites making a return. This season is also marked with the vaulting of Makeshift and Primal weapons. In fact, the weapons scene has evolved so much that it has left many players confused when trying to list out the best weapons. These weapons can actually help you get better at Fortnite.
To help you figure out the best and worst weapons, here's a tier list that you will find really handy:
More About Fortnite Weapons Tier List
We have ranked the weapons below on the basis of account stats, feedback from the community of Fortnite lovers, and of course, our own experience of playing this amazing game. It should be United that the S Tier consists of weapons that are highly desirable and are best for any winning strategy. Those that are included in the D Tier are the ones that are best avoided.
1. S Tier Weapons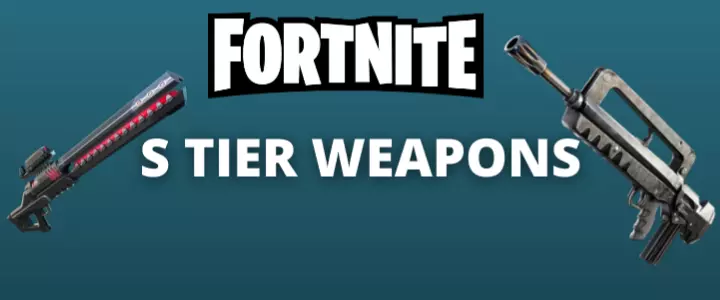 | | | | |
| --- | --- | --- | --- |
| Weapon | DPS | Reload Time | Mag Size |
| Rail Gun | 94 | 2.7 seconds | 1 |
| Burst Assault Rifle | 146 | 2.3 seconds | 20 |
| Rocket Launcher | 97.5 | 2.5 seconds | 1 |
| SCAR (Legendary Assualt Rifle) | 198 | 2.1 seconds | 30 |
We have put Rail Gun on top of this list since we seriously feel that it is simply top-notch. Even though it seems to have a long charge time, it can deliver a devastating single blast that's just perfect in combat with a UFO.
Those who have been playing this game would agree with me when I say that SCAR is one weapon that simply rules this tier. Not just this, the Rocket Launcher is just the apt choice for delivering a powerful punch when the situation arises. Another weapon that makes an interesting return to this tier is the Burst Assault Rifle.
If you stick to these weapons, in all likelihood, you increase your chances of being a winner.
2. A-Tier Weapons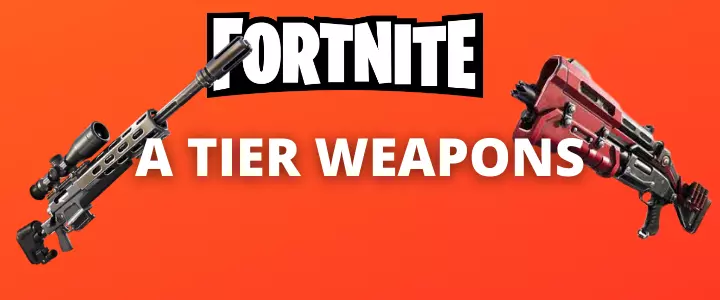 | | | | |
| --- | --- | --- | --- |
| Weapon | DPS | Reload Time | Mag Size |
| Bolt-Action Sniper Rifle | 38.28 | 2.5 seconds | 1 |
| Tactical Shotgun | 132 | 5.1 seconds | 8 |
| Pump Shotgun | 81.2 | 3.7 seconds | 5 |
| Rapid Fire SMG | 255 | 1.3 seconds | 26 |
| Assault Rifle | 181.5 | 2.3 seconds | 30 |
| Heavy Assault Rifle | 174.25 | 2.5 seconds | 25 |
This season has seen the return of the Bolt Action Sniper Rifle which is quite interesting. This is simply an A-class weapon that can be a great asset if you know how to use it. In other words, you should have the skill to use it. Moreover, both Tactical shotgun and Pump Shotgun are simply brilliant. However, we seriously feel that the Tactical shotgun seems to have an edge when comparing the two.
Getting on to The Rapid Fire SMG, it must be mentioned that it comes with an incredible 255 DPS, which itself makes it worth grabbing as soon as you get the chance to.
Last but not the least, both Assault Rifle and Heavy Assault Rifle can be a great part of your arsenal.
3. B-Tier Weapons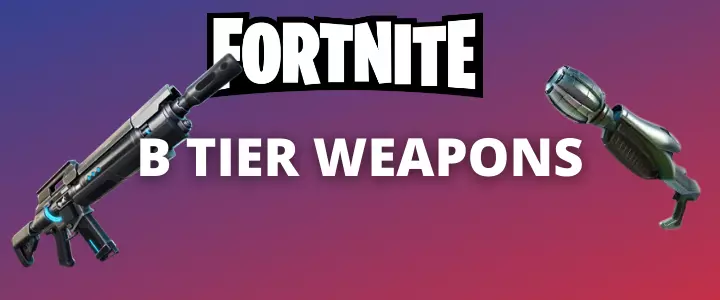 | | | | |
| --- | --- | --- | --- |
| Weapon | DPS | Reload Time | Mag Size |
| Kymera Ray Gun | 165 | 2 seconds | ∞ Cooldown |
| Pulse Rifle | 151.2 | 2.85 seconds | 16 |
| Lever Action Shotgun | 108.5 | 5.4 seconds | 6 |
| Submachine Gun | 220 | 1.9 seconds | 35 |
Two of the new weapons being introduced this season include Kymera Ray Gun and the Pulse Rifle and both of these fall in this tier.
As far as the Kymera Ray Gun is concerned the main positive is that it comes with unlimited ammunition. The only flip side is that it comes with a continuous laser beam that can always make it easy to detect.
The Pulse Rifle, on the other hand, is somewhat average. The Submachine Gun comes with an excellent punch but it is not something that on its own can help you emerge victorious in combat.
This leaves just the Lever Action Shotgun now. As far as this gun is concerned, things can be somewhat tricky. This is because most players try to use it in place of the Pump. There's not much use of this gun, however.
4. C-Tier Weapons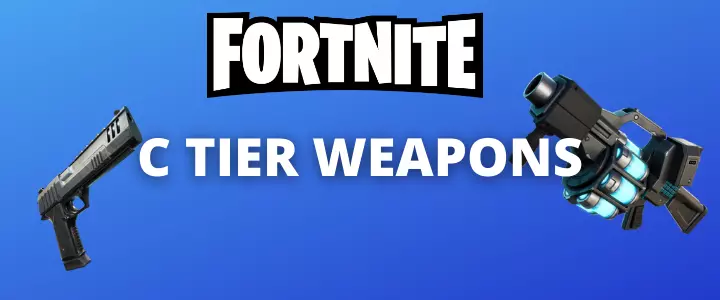 | | | | |
| --- | --- | --- | --- |
| Weapon | DPS | Reload Time | Mag Size |
| Recon Scanner | 15 | 15 seconds | 2 |
| Hand Cannon | 62.4 | 2.1 seconds | 7 |
The new IO Tech Recon Scanner is a good choice when i comes to close combat. The only flip side is that it is not good enough for dealing damage and this is why it is included in this tier. Having said that, it can prove handy in revealing nearby chests.
The Hand Cannon is another weapon included in this tier. It is great and a very powerful weapon that can help eliminate the enemy in a single shot. But the only handicap is that it has a slow fire rate. Hence, it loses its place in higher tiers.
5. D-Tier Weapons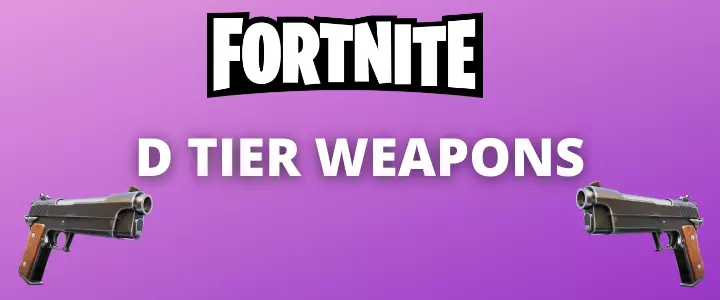 | | | | |
| --- | --- | --- | --- |
| Weapon | DPS | Reload Time | Mag Size |
| Pistol | 195.7 | 1.3 seconds | 16 |
This tier consists of just one weapon and that is the Pistol. This is a simple weapon and its inclusion in this tier should not come as a surprise to you. There's no denying the fact that it's not a great weapon.
How To Become a Better Shooter in Fornite?
Well, to be honest, the foremost thing that you need to be better at shooting and handling weapons is practice.
Other than that a good and powerful system that meets the recommended requirements for Fortnite can also help enhance your performance as a shooter since it can cut down response time. This obviously can help you get an edge over other players.
You can check here the most popular models including the best budget gaming laptop for Fortnite as well as some high-priced models that can help you ace the game to become a pro shooter!
FAQs
What is the best weapon in Fortnite?
I honestly feel that the Rail Gun is the most powerful weapon in Fortnite. Some of the other weapons included in the top tier include SCAR, Burst Assault Rifle, and Rocket Launcher. If you have these weapons, you sure are on your path to victory.
What is S- Tier in Fortnite?
S-Tier is for the best of the best weapons. Anyone who has weapons included in this tier and has reasonable skill as a shooter is likely to win over his adversaries.
What's the worst gun in Fortnite?
The Revolver or the Pistol is the worst gun in Fortnite. It's not much of use in lethal combat.
Conclusion
Now, that you have been through the complete weapons list of season 7, it's important to note that this season has seen the addition of IO Tech weapons, which has made this season look so very different from the last one.
You May Like: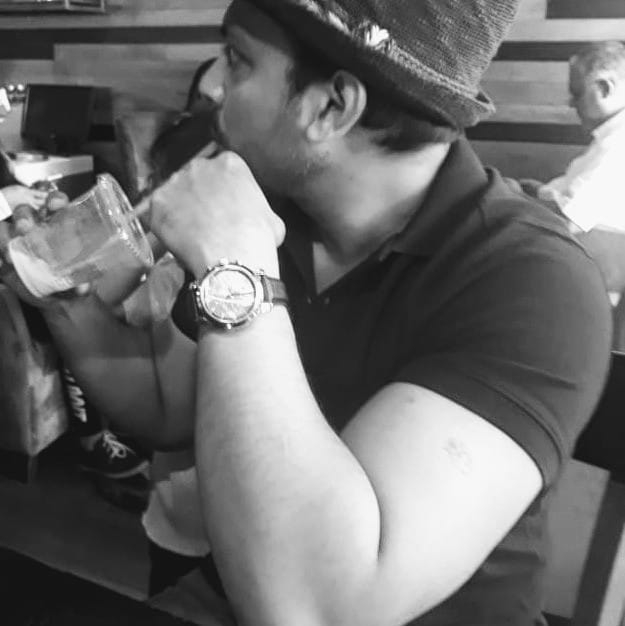 Co-founder of MostValuedNoob.com, Tanveer Quraishi is a creative genius who loves gaming. He is an expert in graphic design and is also a prolific writer responsible for churning out some great content related to various games.