As the game, Sims 4 expands, you are likely to have grown-up children. Thus, you might have to get their homework done! We all know Sims 4 life is highly identical to that of real life. Your Sims will be spending a huge part of their lives completing homework. This includes school, college, and university.
In this article, you will be finding out how to do homework in Sims 4, which is as important as finding out how to make a song in Sims 4.
I must reiterate the fact, before going any further that this is a critical part of the game and that your Sims will be spending quite a lot of time doing homework.
Easiest Ways to Catalyze Homework Completion Process!
Generally, you have 3 options in the game:
Do Homework – this means, your Sims will complete their homework themselves, independently
Do Homework With – this means, you are allowing Sims to complete their homework with their friends belonging to the same age bracket
Get Help From – this means, your Sim will seek help from another Sim who is older than him. This feature comes in handy when your Sim needs help with the homework.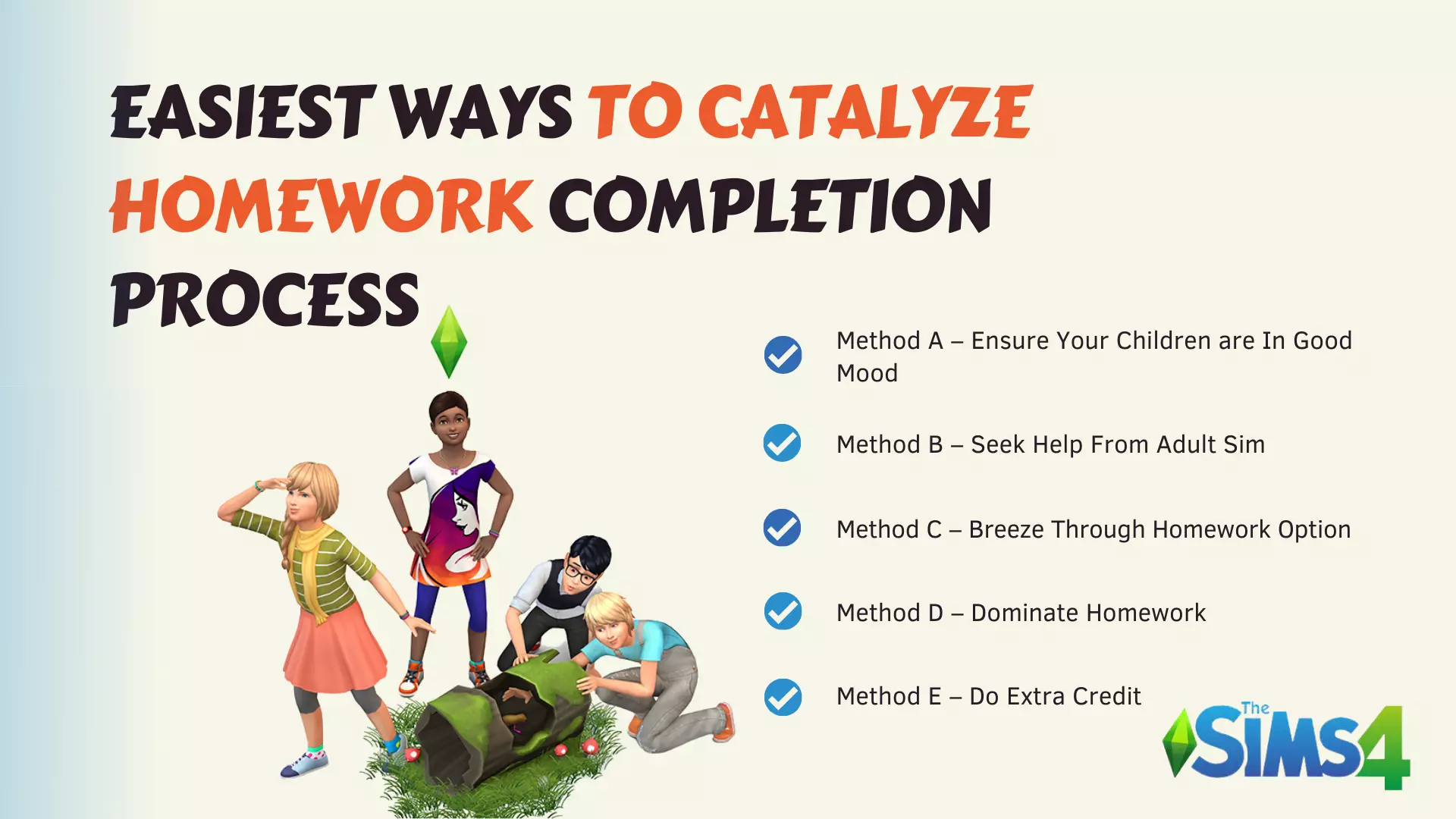 Method A – Ensure Your Children are In Good Mood
Homework is frustrating, and that seems to be true whether it's real or virtual life! In the game, the homework needs to be completed 5 days a week i.e. Monday to Friday. This can easily annoy the children. To catalyze the homework process, be assured that they are in good mood. If they are disturbed for some reason, dig in to find out about it and resolve the issue. Once you have resolved the issue, they will come back in a good mood and start working more productively.
Method B – Seek Help From Adult Sim
Experience speaks for itself!
The option we discussed above "get help from", comes into use here. By picking this option, an adult Sim will help your children to get their homework done. By this method, less time will be consumed and homework will be completed with better efficiency.
Method C – Breeze Through Homework Option
If your Sim has already reached level 3, then you can give them "Breeze Through Homework". This option helps the Sim to get their homework completed faster as compared to regular time.
Method D – Dominate Homework
To use Dominate Homework, your Sims must have unlocked skill level 7. Also, keep in mind that this option is available for children only. This means teens cannot use it. Dominate Homework is used to speed up the homework process and achieve end results faster.
Method E – Do Extra Credit
To avail of this option, the Sim at least needs to have a B in their school. This option gives a boost to the regular performance of the students. Once the Sims have completed the homework, you can give them extra credit so they have a boost when they go to school next time.
Above mentioned ways prove very helpful in getting the homework done effectively. However, as a parent, you need to understand the difference between school homework, and university homework. Just like mentioned above, school homework will be done 5 days a week. You just need to click homework in Sim's inventory and choose "Do homework".
However, for university, you will have a unique type of homework. Instead of doing homework 5 days a week, your Sims have to complete homework for every class they attend. It is highly significant to complete homework before going to attend that class again.
In order to complete Sim's homework, you need to click on their inventory. After clicking it, you will see a black and white homework book. Click on the books and pick which class homework they'd wish to work on.
With the aim of completing homework more on time, you get a few options. The first option is to make a "study spot". Study spot will enhance your Sims 4 homework completion time. Adding research and debate skills to their skill set will also help them to complete their homework quickly. It will also speed up the process of writing term papers.
Sims Homerwork Lost?
Sometimes the homework of the Sims might go missing (or maybe you think like that, while it might not be the real case). Here I have listed below what to do if the homework of the Sims is lost.
Method A – Buy homework
Being an adult, you will have to buy the books for getting the homework done and putting it on the desk of the children, so they pay attention to it and start working. A very basic and useful method is to buy homework.
You can buy homework for $1. To do so, click on the computer or bookcase. Then pick "order books". Then go to the children's section. Now you can buy the homework you want to.
Method B – Sell or Delete Your Bookcases
When you move into a new house or replace the furniture with a new one, the bookcase might cause the problem because of being misplaced. However, it is recommended to delete or sell the recent bookcases and get new ones in order to resolve the issue.
Method C – Check Inventories of Other Sims
Sims generally tend to exchange or lend their homework to the other members. If your Sims homework is misplaced, do check the inventory of other members. There are high chances that you might find the lost homework in someone else's inventory.
Wrap Up
Just like education plays a key role in one's life, it holds equal importance in Sims life too. If you want your Sims to spend a happy, successful, and peaceful life, just keep on working on their education. Although it is a long process, it surely pays off. The best part is that they can even complete their degree courses and are also likely to get scholarships!
This phase of Sims 4 is actually very interesting but technical! Since education is the critical part, you cannot compromise on it by any means. But all the struggles become worthy in no time – just watch it out.
MORE ON SIMS
Abdullah Tariq, the founder of this site, is a passionate gamer and loves sharing his knowledge about gaming hardware and accessories. He is also a software engineer whose ultimate goal is to develop gripping titles.