Looking for minecraft system requirements?
If so, you are not alone. Even though this game was initially launched in 2011, it is still popular and there are many gamers around the world who want to play it on their PC or laptop. There are many tasks involved in the game that are loved by gamers and these include building a laptop, making concrete, etc.
Minecraft System Requirements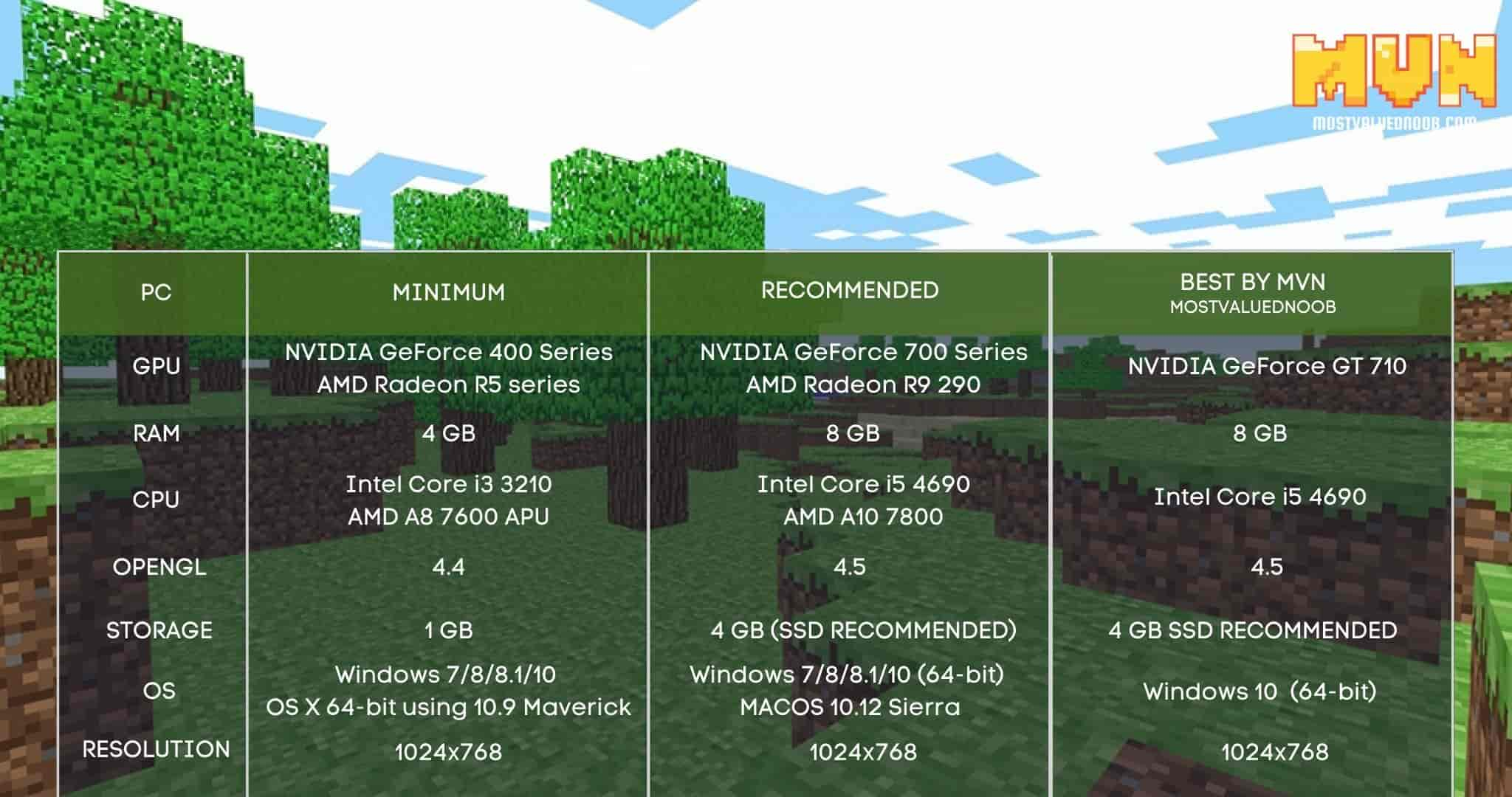 Let's have a look at the system requirements needed to play Minecraft, both minimum as well as recommended.
Minecraft System Requirements – Minimum
| | |
| --- | --- |
| OPERATING SYSTEM | Windows 7/8/8.1/10 or Any MACOS 64-bit OS X using 10.9 Maverick or newer |
| CPU / PROCESSOR | Intel Core i3 3210 or AMD A8 7600 APU or equivalent |
| RAM | 4 GB Memory |
| GPU | NVIDIA GeForce 400 Series or AMD Radeon R5 series or Intel HD Graphics 4000 (OpenGL 4.4) |
| RESOLUTION | 1024×768 or better |
| FREE DISK SPACE | 1 GB Free Storage Space |
If you like to explore & build something then check out the Fortnite game, can you run it as well?
As mentioned above, these are the minimum system requirements and they cannot make for the ultimate gaming experience. You are going to face certain lags and other issues if your system barely adheres to these requirements.
Minecraft System Requirements – Recommended
These are the system requirements that you should go for if you want to play the game smoothly and satisfactorily.
| | |
| --- | --- |
| OPERATING SYSTEM | Windows 7/8/8.1/10 (64-bit) or MACOS 10.12 Sierra |
| CPU / PROCESSOR | Intel Core i5 4690 or AMD A10 7800 or equivalent |
| RAM | 8 GB Memory |
| GPU | NVIDIA GeForce 700 Series or AMD Radeon Rx 200 Series (OpenGL 4.5) |
| RESOLUTION | 1024×768 or better |
| FREE DISK SPACE | 4 GB Free Storage Space (SSD RECOMMENDED FOR SMOOTHER EXPERIENCE) |
Minecraft with Ray Tracing – Technical Requirements
These are the minimum requirements for PBR or physically based rendering and ray tracing in Minecraft for Windows 10.
| | |
| --- | --- |
| OS | Windows 10 64-bit |
| GPU | DirectX hardware ray tracing capable GPU like NVIDIA GeForce® RTX 20 Series and higher, and AMD Radeon™ RX 6000 Series and higher |
| Hardware | VR(Virtual Reality) and MR (Mixed Reality) headsets are not supported |
| CPU | Intel Core i5 or equivalent |
| RAM | 8 GB of RAM |
| Version of Minecraft | 1.16.200 or higher |
Can I Run Minecraft on my PC?
If this is the question that you have on your mind, then we have you covered.
Listed above are the minimum and recommended specifications, including CPU, GPU, and RAM that you need to run the game properly. Check your computer specifications without those mentioned above to know whether they conform to the minimum or the recommended settings and take further action accordingly.
Furthermore, I would like to mention here that Minecraft has been updated recently and it can now fully use raytracing provided you have a compatible GPU.
In light of the abovementioned system requirements, I have compiled a list of the best gaming laptops for playing Minecraft so that you choose the right device for yourself according to your requirements and of course, budget. This list comprises various brands that include Razor, Acer, Lenovo, Dell, MSI, and Apple (towards the higher end of the spectrum as far as price is concerned).
If you are a fan of ray tracing, you are likely to find a model that supports RTX to ensure great onscreen visuals and graphics (have a look at how to enable RTX on Minecraft) and if you are someone who prefers a thin and light laptop, you are likely to find one that suits your needs on this list.
Minecraft Game Details
Now, that you are aware if the system requirements for this game, let's find out more about the game itself:
| | |
| --- | --- |
| Release Date | 18th November 2011 (PC, macOS, Linux, PlayStation 4, PlayStation 3, Xbox One, Xbox 360, PS Vita, Wii U) |
| System Requirements | Low |
| Genre | Creative |
| Developer | Mojang |
| Publisher | Mojang, Xbox Game Studios, Sony Computer Entertainment |
As is clear from above, this game was released on 18th Nov 2011 and since then it has been upgraded multiple number of times.
In this game, the players are required to mine for precious ores and craft with resources that they can take from the surrounding environment. The players build various structures and also battle mobs of zombies and skeletons in their quest to build these structures.
One of the most appealing thing that makes it popular is that players can practically build anything that they want using their imagination on a pixelated dynamically-generated map and these could include massive towers, big monoliths, or huge pieces of artwork.
But this is not all!
All this creative work is woven together in a story wherein the players have to battle the colossal ender dragon, making things even more exciting and gripping.
Minecraft is one of the best-selling games of all time and it has sold more than 176 million units till May 2020. It is hardly surprising that it is even more popular than Mario games and Tetris.
One of the main reasons of its recent surge in popularity is that it has finally done away with the children's game label which was one of the factors hindering its growth and popularity. Not just this, some popular Youtubers have also shown a keen interest in this game making it an even bigger hit.
Optimal Hardware Suggestions
Even though Minecraft is not a highly demanding game, you would certainly need a good PC to play, and a 10-year-old Dell is not going to be good enough.
If you check the minimum specifications, you will find that any gaming rig that you have bought in the past 10 years can actually suffice for playing this game. Not just this, the RAM requirements is also quite low at just 2 GB.
As far as the processor is concerned, an i3 is not too much to ask especially nowadays when most PCs use higher versions.
Even the recommended requirements are quite modest. A dedicated GPU like NVIDIA GeForce 700 series or equivalent can help you get some excellent FPS rates. RAM requirement is also quite modest at just 4 GB. Moreover, the processor requirement gets pushed up to i5. This kind of setup can help you get a stable 60 FPS at higher resolutions and settings.
To be a better player, along with great hardware you need to know how to click faster in Minecraft so that you can beat the competition in its tracks and emerge as the ultimate winner. In order to be a fast clicker, you need to practice jitter clicking or even faster clicking.
FAQs
Can I run Minecraft on 2GB RAM?
Yes, it can but the problem is that it will run not run smoothly as it should be and this why at least a 4 GB RAM is recommended along with some other computer specifications mentioned above.
Can I run Minecraft on 32 bit?
Yes, but what you need to keep in mind is that you should have at least 4 GB of RAM to run this game and it is quite likely that your 32-bit device is not going to meet this requirement.
Why is Minecraft so addictive?
Minecraft is essentially a sandbox game and you can practically go anywhere in this game and you can do anything that you want, creating stuff from your imagination. This is where most people especially kids get addicted and find it hard to give up playing the game.
Conclusion
Minecraft is a hugely popular game and it is low in requirements too. On top of that, it is hard to put down once you start playing it. I would reiterate that you go for the recommended settings if you want to enjoy the game and have a smooth run too.
You may have to update your Windows operating system and graphics drivers to experience ray tracing.
Abdullah Tariq, the founder of this site, is a passionate gamer and loves sharing his knowledge about gaming hardware and accessories. He is also a software engineer whose ultimate goal is to develop gripping titles.