PlayerUnknown's Battlegrounds Mobile, otherwise known as Pubg Mobile, is a massive gaming sensation. With millions of views under the belt, Pubg Mobile is up there as one of the top-ranked battle royale games in the market. Having said that, anyone who has ever played this game would tell you why people are drawn to purchasing the royale pass in Pubg Mobile.
However, if you don't know the right process to make the purchase, it could leave you scratching your head. So, today, we'd tell you how to buy a royale pass on PUBG mobile. Without any further ado, let's dive right into it!
How to Buy Royale Pass in Pubg Mobile?
If you want to buy a royale pass in Pubg Mobile but don't know how to do it, keep reading till the end!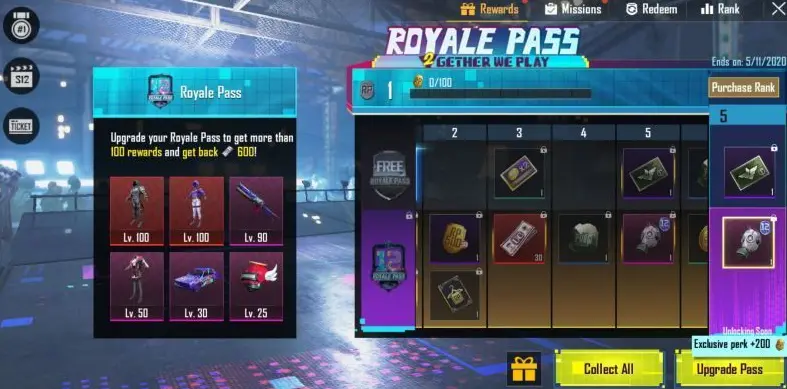 Buying the Elite Royale Pass:
For those of you who don't know, there are two types of royale pass, i.e., free royale pass and elite royale pass. Until C1S1, the elite royale pass used to cost 600 UC, which was returned to users over time as they completed the royale pass missions. By the end of the season, gamers would end up with the exact amount of UC that they spent to get a royale pass early on.
To buy the royale pass in Pubg Mobile, consider following these simple steps:
Make sure you have enough UC to purchase the elite royale pass. If you are yet to purchase UC, you can easily buy UCs by following our guide.
Find the "RP" icon at the top right side of the screen. You'd see it right next to the "Crate" icon right above the event option. Click on the "RP" icon.
Now, you'd be taken to the page where you'd see your royale pass missions progress. At the bottom right of the screen, you'd see "Upgrade Pass" text. Click on it!
A menu will show up where you'd see two different packages. The basic one costs 300 UC while the premium one costs 900 UC. You can choose either of them depending on the UC that you have in your account. Be mindful that the basic package contains all the royale pass exclusive items, including gun skins, vehicle skins, outfits, emotes, and other perks, and is more popular among the players. However, if you want to up your royale pass game and want to grab a few premium items as a bonus, you can opt for the premium option, elite pass plus.
Now, a message will show up, asking you to confirm the purchase. Click on the "OK" button to confirm your royale pass purchase.
That's it! You have successfully purchased a royale pass in Pubg Mobile. The UC will be deducted from your account and you will be able to get those exclusive special items for free. As mentioned earlier, you will get your UC back over time, which you can spend in the next season to get the next royale pass. Also, check out how to send UC to your friend.
However, you will have to select UC as your reward. Alternatively, you can also choose AG as your reward for completing missions, but bear in mind that you cannot open any classic or premium crate in Pubg Mobile with the AG currency. So, it's a good rule of thumb to go for UC instead of AG.
Last, but not least, don't forget to complete the missions in Pubg Mobile. Yes, you spent money to get the royale pass, but that doesn't mean your job is over. You will only get your UC back if you complete the missions. So, make sure to complete all of them to get exciting items and UC. We recommend checking out the royale pass missions every week, so you'd know which ones seem doable.
Abdullah Tariq, the founder of this site, is a passionate gamer and loves sharing his knowledge about gaming hardware and accessories. He is also a software engineer whose ultimate goal is to develop gripping titles.