If you are reading this article, it would be safe to assume that you are one of the millions of gamers who have downloaded Pubg. Without an iota of a doubt, it is among the most household names in the gaming industry. It has been around for quite some time now and has quickly staked its claim on the hearts of millions and millions of gamers worldwide. However, before you ask your friends to join you and hunt for a "Winner winner chicken dinner" together, you might be thinking is pubg mobile cross-platform in the first place? Let's dig right into it!
Is Pubg Mobile Cross Platform?
The plain and simple answer to this question is that "Yes, Pubg Mobile is a cross-platform". However, this compatibility is not between every platform. Of course, gamers are all for it, as it gives them the luxury to play with their friends without having to worry about their devices.
For those readers out there who don't know about a cross-platform, a cross-platform is an application that can work across various operating systems and devices. In other words, it is not limited to a certain device or operating system. When it comes to gaming, if a game is cross-platform, it means that it is compatible with a number of devices, such as PC, mobile phones, tablets, consoles, etc.
Is Pubg Mobile Cross Platform Between iOS and Android?
It's no secret that Pubg is mostly played on mobile phones. Yes, it supports plenty of other devices as well, but the major portion of its player base consists of mobile gamers. Predictably then, it is cross-platform between iOS and Android phones. So, if you have Pubg Mobile freaks that own a phone that runs on a different operating system, you can rest assured that you can enjoy smooth gameplay with them.
It's great for mobile gamers as iOS and Android phones both are widely used, so a team member won't be left out just because they use a non-compatible phone. Whether you are using the latest flagship model phone, or own a slightly older mobile phone, you can play Pubg Mobile on it.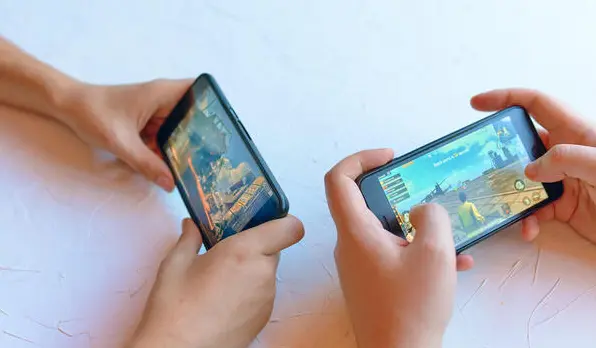 This cross-platform compatibility offers plenty of gaming benefits and has contributed a lot to Pubg Mobile's popularity. Here are some of the benefits of cross-platform compatibility between iOS and Android phones.
It enables you to play with your friends regardless of their mobile phone device. Whether they own an iPhone or Android phone, they are good to go! You don't even have to buy the latest top-of-the-line phones, as slightly lower-priced phones also support Pubg Mobile.
The gameplay remains pretty much the same regardless of the device platforms. Don't get us wrong, it doesn't mean that the gaming experience on a flagship model and a low-end device is the same. Without a shadow of a doubt, if you are equipped with a more robust phone, it will brighten up your chances of getting a "Winner winner chicken dinner".
However, there is not much of a difference between the mobile phones of both platforms. This means that a flagship model of the iPhone will offer the same great gaming experience as an Android flagship model. Pubg Mobile is not biased towards a certain operating system.
Aside from that, you won't have to churn out your hard-earned cash to get a certain phone. As mentioned earlier, both operating systems offer a similar gaming experience. There are no glitches that have been associated with either of them and you don't get any exclusive gun skins or outfits if you use a certain phone. Also read, can PUBG be played with a controller?
Is Pubg Cross Platform Between Mobile Phones and PC?
No, Pubg Mobile is not a cross-platform between mobile phones and PCs. In simple words, you cannot invite a PC player to your lobby. In the early days of Pubg Mobile, it was a cross-platform between mobile phones and PCs. However, developers noticed that it was unfair with mobile gamers.
The reason is obvious, i.e., gaming on a phone can never be as efficient as a PC having a keyboard and mouse. It was noticed that PC gamers had a clear edge as they can jiggle quickly, which gave them an upper hand, especially in close-range fights. When you invited a PC player to your team, the lobby had both kinds of players in the lobby (mobile and PC gamers). While PC players loved finishing mobile gamers and making ray while the sun shone, mobile phone gamers, on the other hand, were up in arms over this. Check out, the best settings for PUBG which I have listed after testing for a couple of days to ensure that the game runs smoothly!
It was only a matter of time before Pubg launched Pubg PC, a separate gaming platform for PC users. So, we have two dedicated gaming platforms for PC users and mobile gamers. So, if you own a PC and want to have a gaming session with your mobile gamer buddies, the bad news for you is that you won't be able to enjoy it.
Pubg Mobile is quite different from Pubg PC. Any gamer who has played on both platforms would agree that both offer different gaming experiences. Since most Pubg players are mobile gamers, Pubg holds more events for mobile gamers. To take it a step further, you also get to see more guns' skins and vehicles' skins in Pubg Mobile than in Pubg PC. To run the game on a PC you must check PUBG system requirements first.
Is Pubg Mobile Cross Platform Between Mobile Phone and iPad?
Pubg Mobile does have a cross-platform between mobile phones and iPads. Thanks to its better graphics and aiming capabilities, the iPad is widely used to play Pubg Mobile and many YouTubers use it. If you play on a mobile phone and want to play with a friend who owns an iPad, Pubg Mobile allows you to do that. From rooms to classic matches, you can play any match in the same lobby.
However, to invite your friend to your lobby, you have to be in-game friends with him. In case you haven't added him, click on the "Friends" option at the left side of your lobby screen and then click on the "Plus" icon at the top of the next screen. There, you'd have to enter your friend's in-game name or Pubg Mobile user id in the search bar. That's it! Ask your friend to accept your friend request and enjoy playing together!
Abdullah Tariq, the founder of this site, is a passionate gamer and loves sharing his knowledge about gaming hardware and accessories. He is also a software engineer whose ultimate goal is to develop gripping titles.