Pubg mobile needs no introduction in the gaming arena. It is by far one of the most widely played battle royale games on the internet and one of the most recognizable names in the industry. The game was released in March 2017, and it was off to a flying start. Not only did it break popularity records of the previous games, but also set benchmarks for games in the future. With that being said, getting UC could be a daunting task if you don't know how to send uc in pubg mobile. Today, we aim to share everything that you need to know about sending UC in Pubg mobile. Let's dive right into it!
What Actually is UC?
Most Pubg mobile gamers would be familiar with UC. However, for those of you out there who don't know what it actually is, it is a currency used to redeem items and open crates in Pubg mobile. It could be used to open classic and premium crates. To buy supply crates, Pubg mobile has a different currency, known as AG.
Although Pubg mobile keeps entertaining gamers with free crates now and then, it is seen that spending UC to open crates brightens up the chances of getting special items. So, if you are an avid gamer and have your pocket deep enough, you can't go wrong with UC. In addition to crates, you can also get special items, such as X suits, premium car skins, and many more. Now that you are aware of what UC is, let's discuss the ways to send it in Pubg mobile.
How to Send UC in Pubg Mobile?
To ensure the convenience of its gamers, Pubg mobile has made sure to provide its gamers with more than enough options. As of now, there are multiple ways to get UC in Pubg mobile.
Requesting for a Royale Pass:
Royale pass is a subscription that earns you UC. When the season is over, you get your UC back. The royale pass has to be bought directly from Pubg or via authorized sellers. However, as things stand, you can also send it to your friend. This is how you can send a royale pass to your friend in Pubg mobile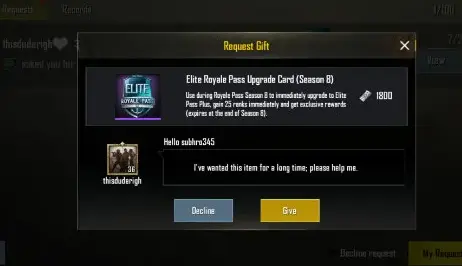 The process begins with a request from your friend who you intend to send UC. Make sure that the other person is your in-game friend too.
Your friend can place a request on the lobby screen. To send this email, he has to click the "Royale Pass" button and select the "Upgrade Pass" option.
Now, ask your friend to click on "Send Request".
The request has been placed successfully.
Now, look at the bottom right corner of your lobby screen. You'd see the "Mail" icon there.
Click the "Mail" button there and visit the gift section.
See the "Request" menu in the gift section.
Now find your friend's name and click the "View" button once you find it.
Now that you have selected the friend that you want to send UC to, you'd be asked to go through some notes before finalizing. Click the "Give" button once you have read those notes.
However, be mindful that this whole request method will work only if you have been friends with that person for over 24 overs. The account level of that friend should also be 3 or more than 3, and you should have at least 20 synergy with that friend. Those who have played Pubg mobile will know that reaching level 3 is an absolute walk-in-the-park and could be achieved in less than a day. The same goes for 20 synergy. To expedite the process, you can gift popularity and other gifts to your friend. Also read, how to get free UC in PUBG.
Send UC by Play Store:
If royale pass and prime plus don't seem the right option for you, another way of sending UC is by purchasing it directly in the game for your friend or family member. It's suited for those who want to get more UC as royale pass and prime plus can only give you a limited amount. So, if you want to level up things, here is how you can do it: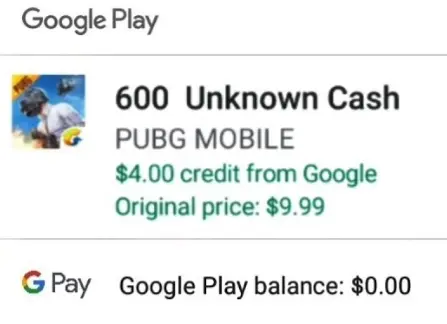 Open Pubg mobile and log in to the account in which you want to purchase UC.
You'll see the UC icon on the upper right side of the screen. Click this icon.
Now select the option that you find suitable to your budget and needs.
Now Pubg mobile will take you to the Play Store where you can select the convenient mode of payment.
Once the purchase is completed successfully, you'll see a message and UC will be soon credited to your account.
Send PUBG UC VIA Midasbuy:
Midasbuy is an authorized UC seller that you can turn to if other methods don't seem viable. For this purpose, here are the steps that you'd need to take.

Visit the Midasbuy website. You'd be asked to create a new account if you don't have one already.
Click on the "Top Up" icon. Now you'd be asked to enter your Pubg mobile player ID. You can put the ID of the player here to whom you wish to send the PUBG UC.
Now enter the amount you intend to buy.
Choose your convenient payment method to complete the transaction.
Once your transaction is complete, you'd be notified and the desired amount of UC will be transferred to your account soon enough.
If you still see the same amount of UC, restart the game. Hopefully, it will be updated this time around.
The good news for you is that you can buy as much UC as you want. If you have already availed royale pass or prime plus, this method can hit the nail on the head for you.
You can buy PUBG UC from other sellers as well. However, make sure to buy from authorized sellers. Bear in mind that buying from unauthorized sellers can get your account banned. Of course, the last thing you'd want is to get your account banned after purchasing UC. It's a good rule of thumb to ask your teammates for referrals. They will let you know if they know a credible UC seller.
Apart from unauthorized sellers, illegal methods, such as carding UC, can also lead to a ban. Although some gamers can get away in such cases, it's recommended to refrain from these illegal methods.
Abdullah Tariq, the founder of this site, is a passionate gamer and loves sharing his knowledge about gaming hardware and accessories. He is also a software engineer whose ultimate goal is to develop gripping titles.