UC is the in-game currency for PUBG. Like other multiplayer games these days, the UCs, being the in-game currency, can be used to buy multiple items for your in-game character. These items make your character look unique and stand out from the other players' characters.
They can be used to buy other items as well such as gun skins, vehicle skins, treasures, etc. As these UCs come with quite a lot of perks, they are fairly hard to earn as well. In this article, I'll be showing you a couple of methods on how to get free UC in PUBG.
What are UCs?
Like other games that have a unique game currency, PUBG has one as well. UC or also, Unknown Cash is the game currency used in PUBG. By utilizing your UCs, you can buy exciting stuff for your character that makes it look unique. Other than that, you can also redeem mystery boxes that contain outfits, BPs, etc. You can also buy weapon skins, emotes, and whatnot!
How to Get Free UCs?
Earning UCs is not easy, quite expensive actually and difficult as well – you can buy UCs with your money but like I said, it is quite expensive. For example, 60UCs are bought by $0.99. Other than that, there are no in-game challenges (except a few) that allow you to earn a decent amount of UCs directly. This is a problem for you, isn't it? Well then, let's look at some ways that help you earn free UCs in PUBG. Primarily, we'll be looking at ways that are meant for Android users after which we'll be coming to Apple users. Also, check out does PUBG mobile supports controllers?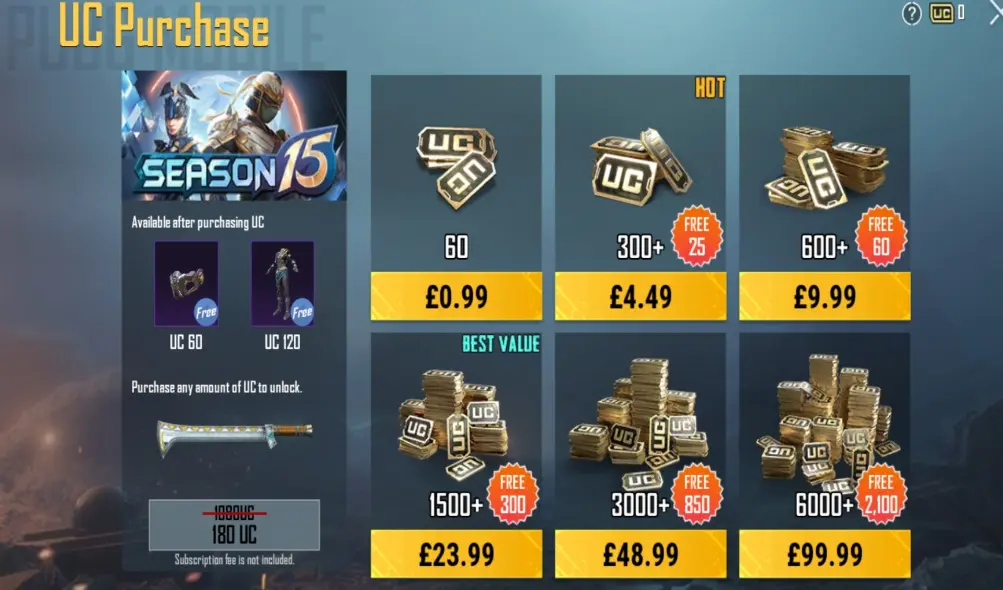 Why You Shouldn't Use Hacks To Buy UCs?
Before diving into ways that can help you earn UCs legally, let me first clear a misconception that is common among many PUBG users.
Some third-party sites and apps claim to help you generate free UCs, however, this act is strictly prohibited by the PUBG Official Team so, by seeking help from these sites, you're going to be putting your account at risk as it is likely that your account may get permanently banned by logging on to such sites/apps. Also, most of these apps require you to signup via Facebook or Google, or any other Social Media account, I won't suggest you go for it due to data and privacy concerns.
Earning UCs through Elite Royale Pass:
Elite Royale Pass comes with a set of challenges that the players have to complete in order to earn UCs. The amount you earn from completing these challenges depends on the number of challenges you complete and the type of Royale Pass that you purchase.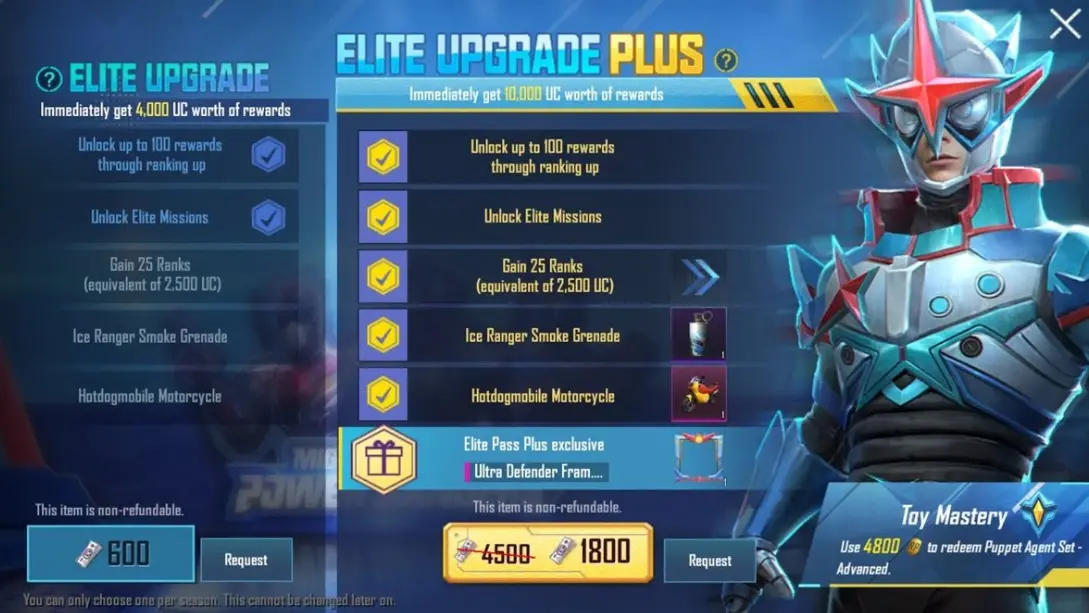 Typically there are two types of Royale Passes – Elite Royale Pass and Elite Royale Pass Plus. The Elite Royale Pass Plus costs about 1800 UCs while The Elite Royale Pass costs 600UCs. These Royale Passes are purchased once after which you can enjoy a lump sum amount of UCs by the completion of missions/challenges. Also read, how to send PUBG UC to your friends or family members.
Can't buy a Royale Pass at the moment?
If you can't afford a Royale Pass at the moment then I would suggest that you ask someone to gift it to you. The reason? Well, if you play PUBG regularly then you might have the idea that earning UCs isn't easy, so, buying a royale pass would in turn increase your chances of getting a heavy-duty amount of UCs.
Earning UCs through Custom Rooms:
Many YouTubers hold tournaments and competitions to celebrate their increasing amount of followers, these tournaments are held in custom rooms. By participating in such types of events, the players have a shot at winning UCs and other exciting prizes; these include cash prizes and also, Royale Passes as well.
Earning UCs by Playing Bonus Challenges:
One more way to earn UCs is by playing bonus challenges. Bonus Challenges is a kind of tournament within PUBG with the help of which you can earn free UCs, outfits, and whatnot.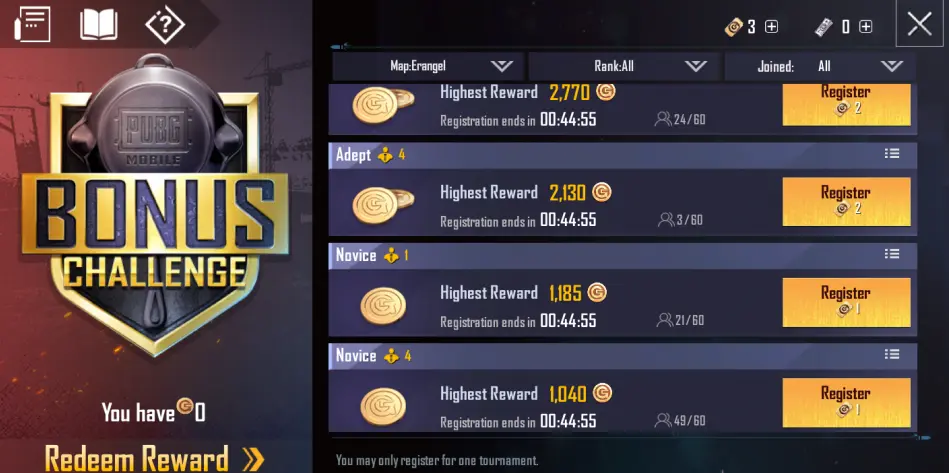 However, to participate in the bonus challenge tournament, you are required to have a bonus challenge voucher. A bonus challenge voucher is given to you every week depending on your rank/tier. For example, players in the ace tier receive 3 bonus challenge vouchers per week and as we move on to the bottom tiers, the amount of bonus challenge vouchers per week decreases as well.
To sign up for bonus challenges, follow the steps mentioned below:
Launch PUBG and log in from your PUBG account.
From there, click on the trophy icon displayed in the lobby section of the game.
After selecting the bonus challenges, you will be needing a bonus challenge voucher to sign up and you're done.
NOTE: PUBG holds these special challenges according to a schedule, which means that these challenges are not always available rather, at specified timings.
Earning UCs through Special Events:
PUBG tends to conduct special events from time to time. These events contain specific challenges that you have to complete in order to win exciting prizes. However, there isn't any guarantee that by the completion of these challenges you'll be receiving UCs but still, the prizes are worth it! Also read, How to change your name in PUBG?
Earning UCs through Giveaways:
This method relatively depends on your luck but is still worth a shot! Many YouTubers and streamers tend to hold giveaways for their followers.
These giveaways consist of UCs, battle passes, skins, cash prizes, and so on. Participation in such types of giveaways gives you a chance of getting your hands on some cool stuff related to the game.
Conclusion:
In essence, buying UCs from your wallet is expensive neither are there any direct challenges to earning them but, there are several ways to execute this problem. By opting for any of the methods that are mentioned in the article above, you can increase your chances of earning UCs in a legitimate and cost-friendly way, but be aware of third-party apps or sites that claim to be giving out free UCs.
Abdullah Tariq, the founder of this site, is a passionate gamer and loves sharing his knowledge about gaming hardware and accessories. He is also a software engineer whose ultimate goal is to develop gripping titles.