I know you love Sims 4 and want to make it look way better than what it does. In such a case, you can use some of the best Sims 4 reshades that can help you get some amazingly awesome graphics.
For those that are unaware of what Reshade it, let me say that reshade is a free program that you can easily download so as to change the look of your favorite video games to improve their look and feel! It goes without saying that Reshade is quite popularly used by The Sims 4 lovers. However, it is imperative that you have a high-end computer before you use Reshade since it can make your system lag.
Alternatively, what you can do is that you may use it purely for screenshots and turn it off while you are actually playing the game. To make this game even more interesting I would suggest that you check out the top Sims 4 challenges as well as the best Sims 4 gameplay mods by clicking here.
Sims 4 Reshade Presets
Without much ado, here are the best Sims 4 Reshade presets that you may use:
1. Dove 2.0 Sims 4 Reshade Preset by kindlespice
Let me say that none of the presets are in any particular order. However, I have listed the ones that I personally like and use in the game. You are absolutely free to use any of these as you may like.

I have put the Dove ReShade 2.0 because I simply love it. What it inevitably does is that it adds a lot of brightness and color to Sims 4. Since it adds a dash of pink/purple to the game, it simply looks awesome both in-game as well as for screenshots.
2. October Mist Sims 4 Reshade Preset by Simdle
Not everyone is a fan of ligt colors like pink and purple. If you are someone who prefers to add a darker hue to the game, then this is the Reshade that would suit you just fine.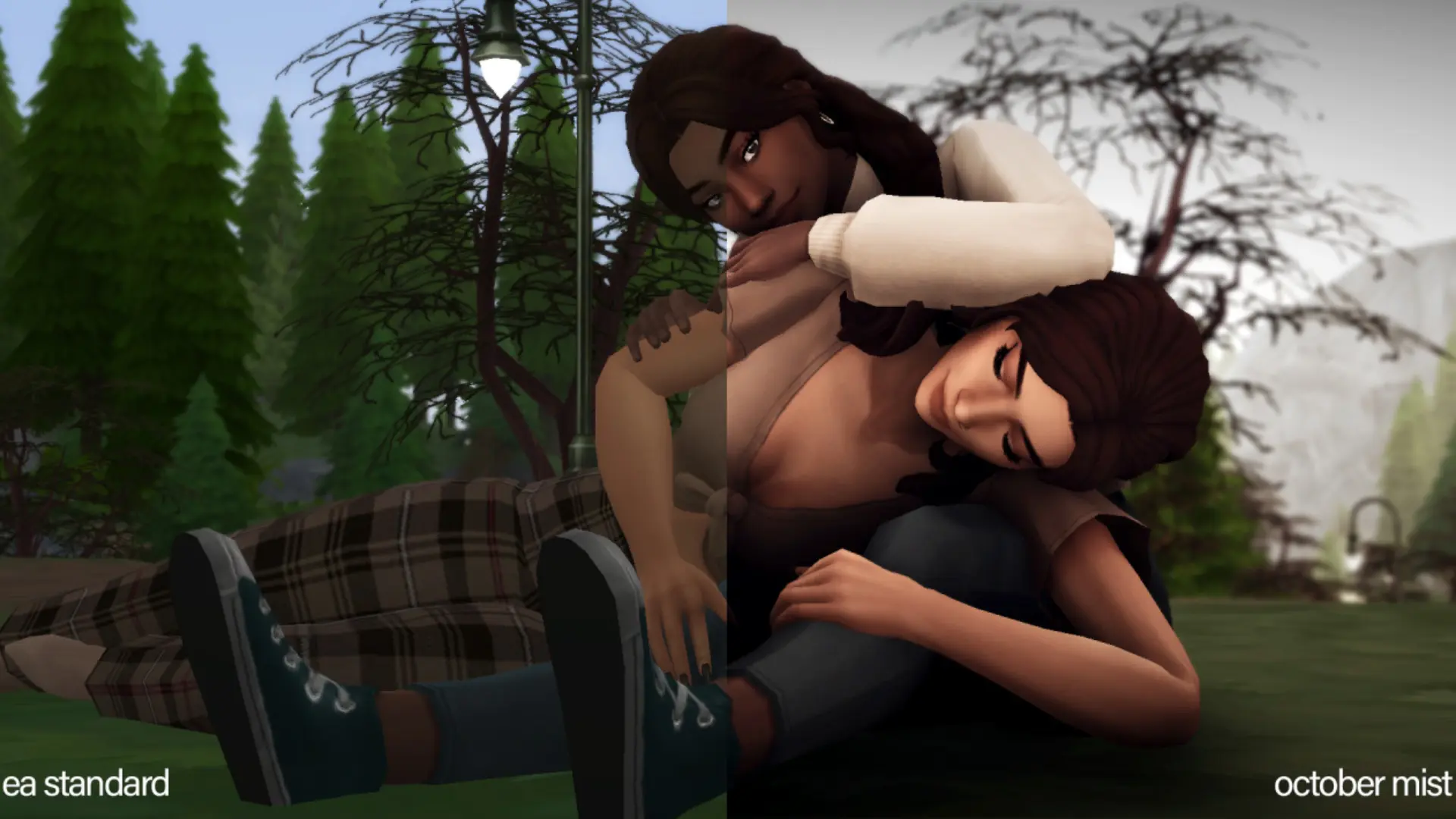 Even though it might make the game appear somewhat grim, it does add a little bit of brightness as well as contrast to your sims and their world. For those that love these colors, it can make them game look spectacular!
3. Herbalhaze Sims 4 Reshade Preset by imkeegscc
This is the Reshade that is likely to make your game brighter, more virbant and whimsical!

As far as the colors go, it has a slight peachy tone to it, which too can add a bit of vibrance to your sims.
4. Lunar Sims 4 Reshade Preset by simancholy
There are many gamers who want to add a blurry effect to their sims and the Lunar Sims 4 Reshade is just the right choise for them since it can add a blur effect to the entire background. I must say that it is just great for taking some cinematic screenshots!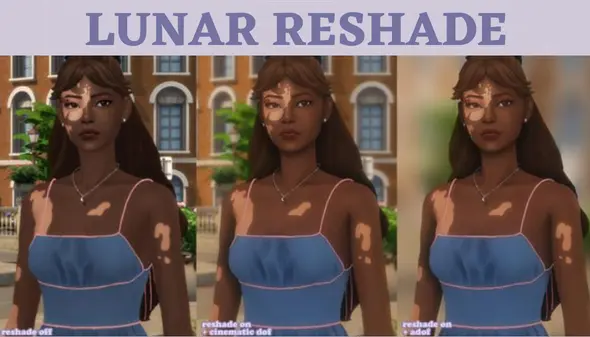 One thing that you cannot miss is that this reshade tends to add a cartoon-like effect to the sims which is something that is extremely popular within the Sims community.
5. Thatched Sims 4 Reshade Preset by amoebae
Henford-on-Baglet is the beautiful world that comes with The Sims 4 Cottage Living and now you can fix ots lighiting with the help of Thatched preset. I must say that it can really improve lighting and set the secene for some awesome screenshots with this preset.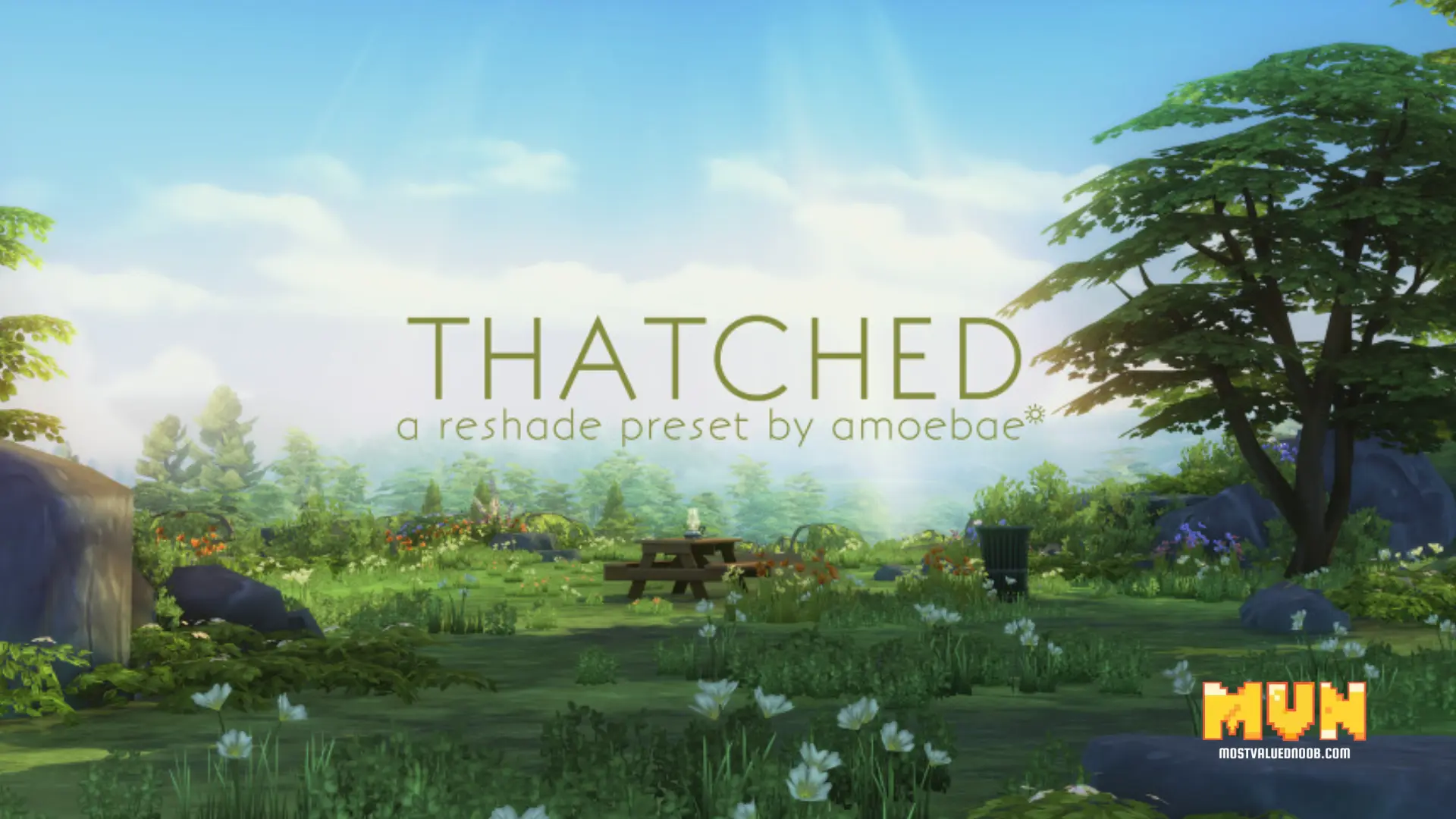 6. eris Sims 4 Reshade Preset by cerubean
This one also adds a perfect blurry effect to the Sims 4. What makes it different from Lunar Sims 4 Reshade preset, as mentioned above, is that it can add a lot of brightness to the game. I must mention here that extra brightness is something that is gravely missed and needs to be worked upon.
7. Compass Sims 4 Reshade Preset by intramoon
This is a preset that was originally made for Cottage Living but it certainly pairs well with the world of Henford-on-Bagley.
What it essentially does is that it adds vibrancy to colors in the game. But this is not all!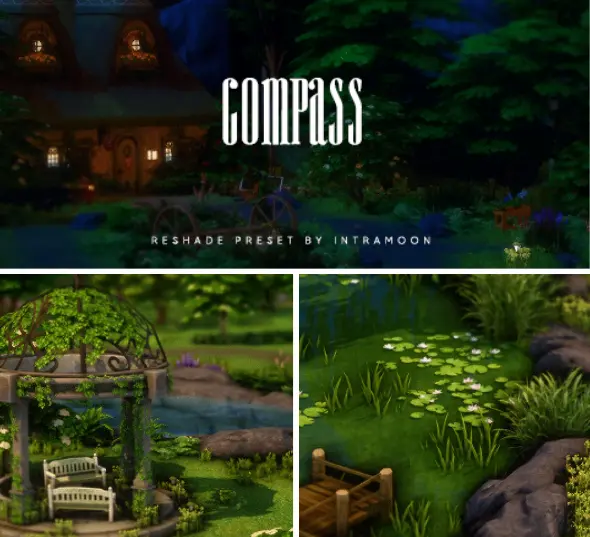 This is a preset that include deep blacks too.
With a change in colors through this preset you can take some amazing screenshots and create a unique vibe!
8. Pearl Sims 4 Reshade Preset by MiikoCC
This one is an absolutely stunning reshade preset.
It not only adds a soft glow to the game but also adds in extra saturation. I must say that it is just perfect for taking pictures of your sims!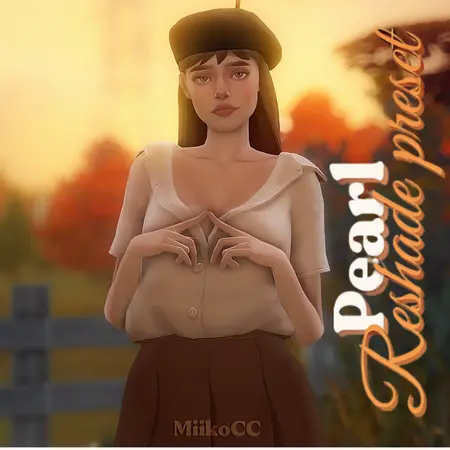 However, this one is a Patron-exclusive. What it means is that it is not free and that you have to spend some money to get it.
9. Bright Sims 4 Reshade Preset by Unicorn Poopz
If you are someone who loves summer, then this is a must-have preset for you.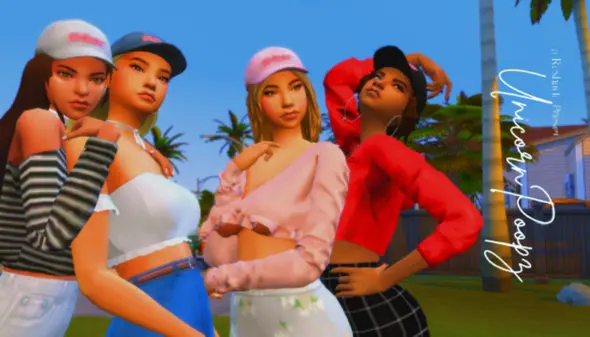 It is highly saturated and vibrant. In other words, it has all that you want from a good sims 4 reshade preset!
10. Eleanora Sims 4 Reshade Preset by talentedtrait
How about something dreamy?
If you want something that can add a hint of brightness to the game while being dreamy at the same time, this is the preset that you need.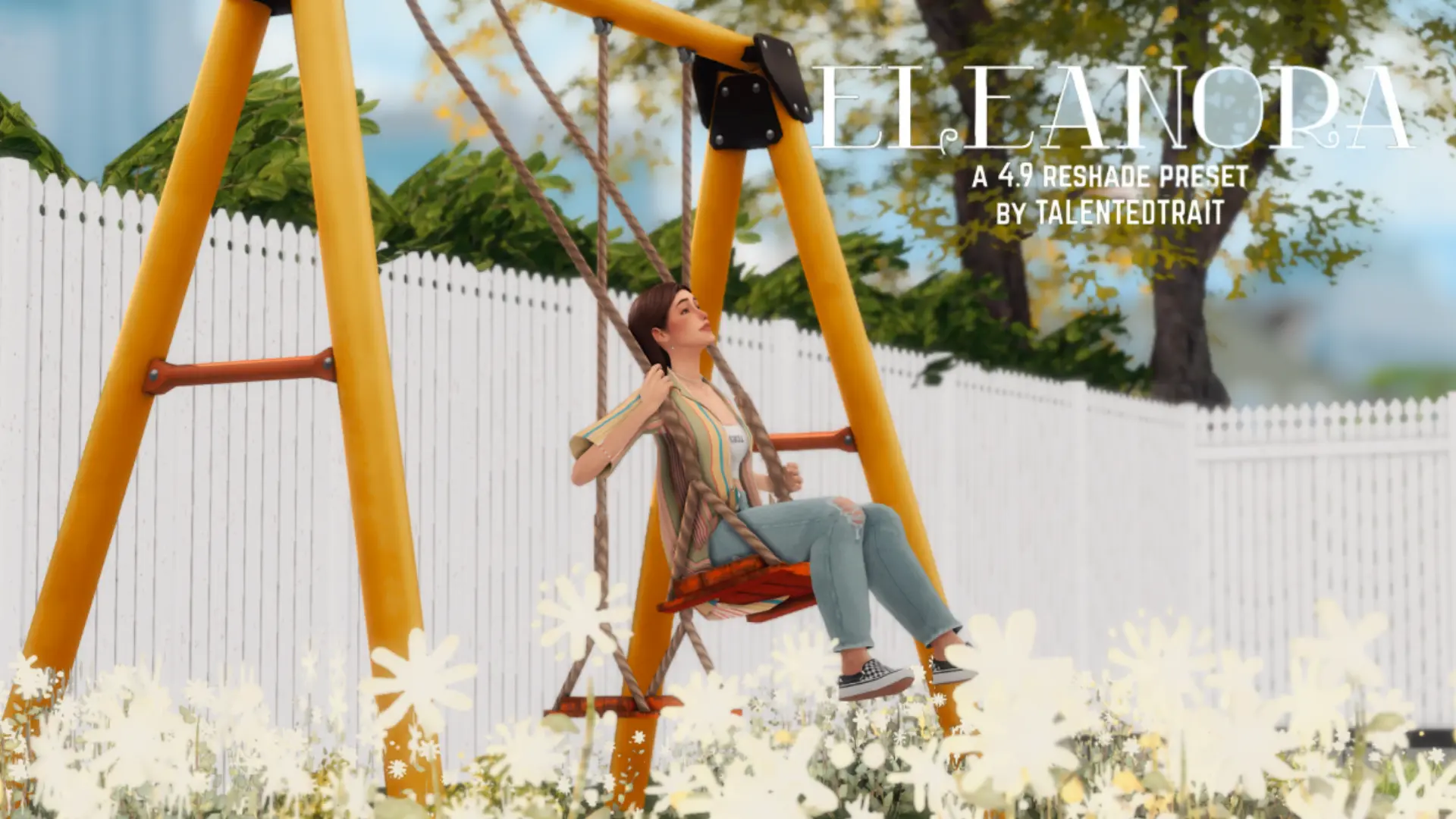 I must mention here that this preset is highly inspired from the Dove Preset which I absolutely love and use quite often.
What sets it apart from the Dove preset is that it has little bit of the pink hue and includes more white in it. I think its super awesome!
11. The Moods Sims 4 Reshade Preset by amoebae
The Moods reshade preset, as the name suggests, provides you with different presets for different moods. It must be noted that it includes Sims 4 grapphics mod to include as many as 30 moods that you want in the game.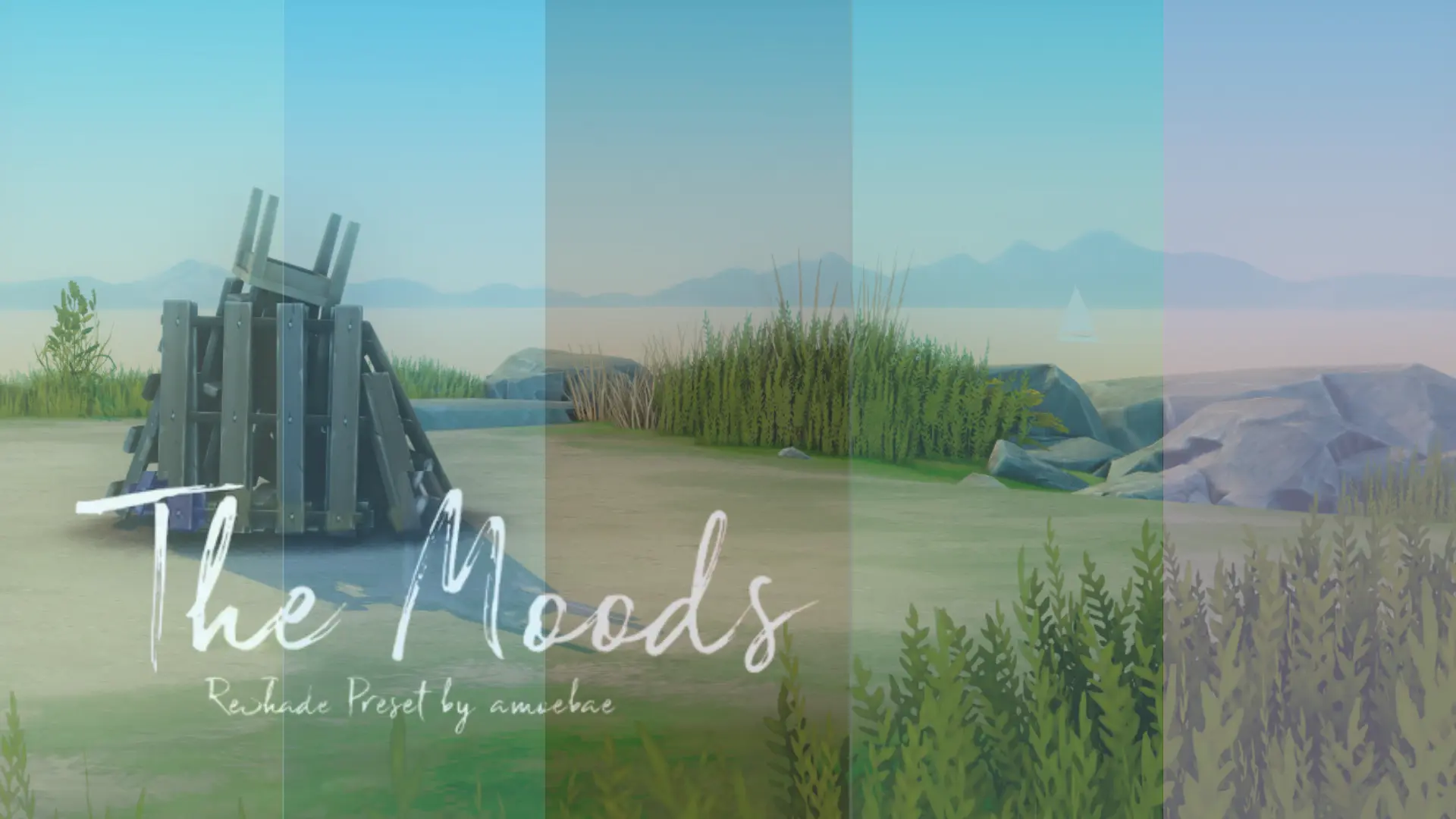 The best part is that all these are includes in just one preset download so you don't have to worry. Furthermore, you should be able to switch between these while using the preset itself.
12. Good Day Sims 4 Reshade Preset by Orianas SimStudio
If you want something that will introduce subtle changes so that your game won't look completely diffetent then Good Day Sims 4 reshade preset is all that you need.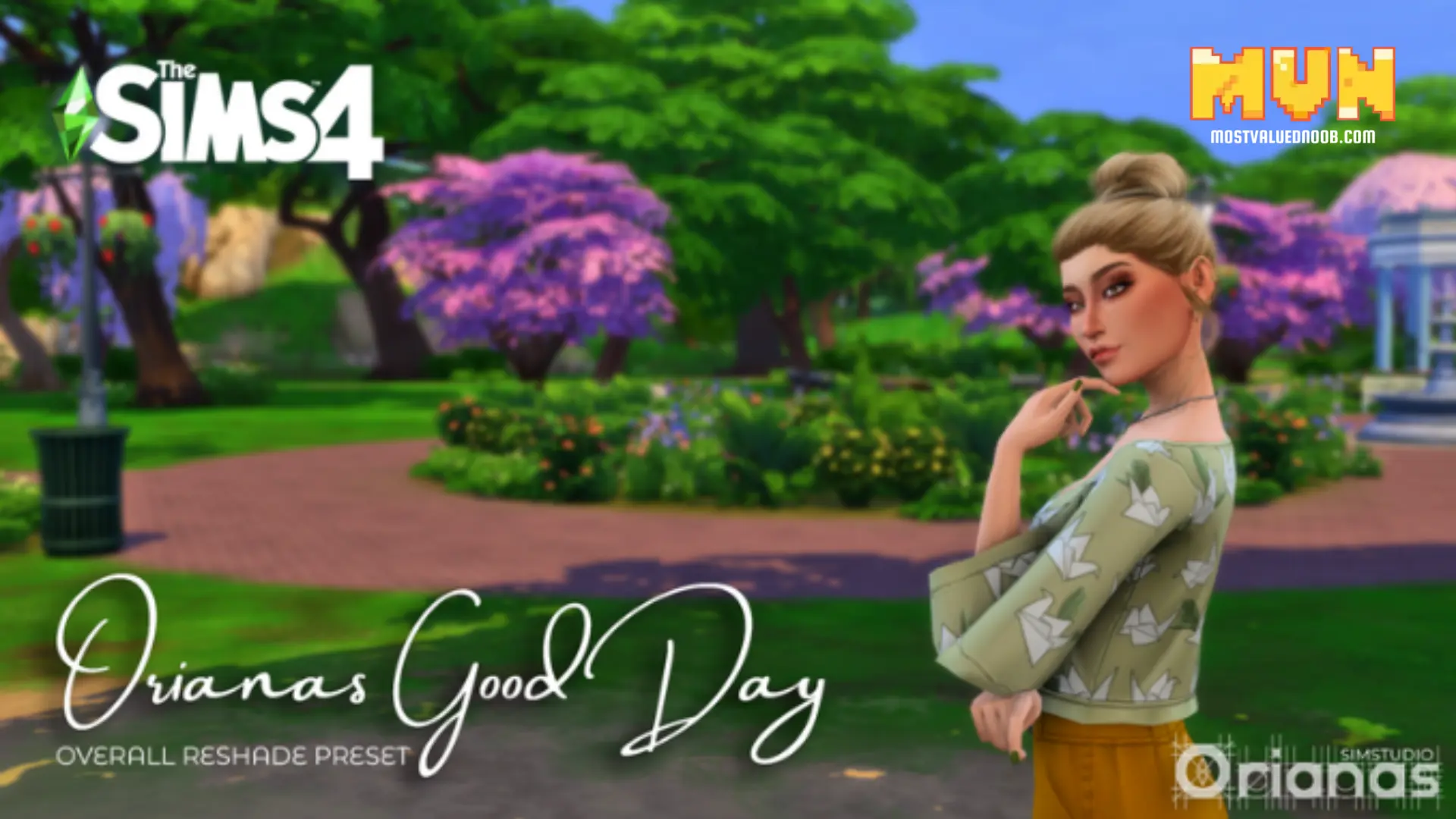 It is a highly simple and subtle as well as gameplay friendly preset that is easy on eyes too.
13. Drift Sims 4 Reshade Preset by amoebae
If you want to take scenery screenshots then this is the muted, dreamy preset that you essentially need.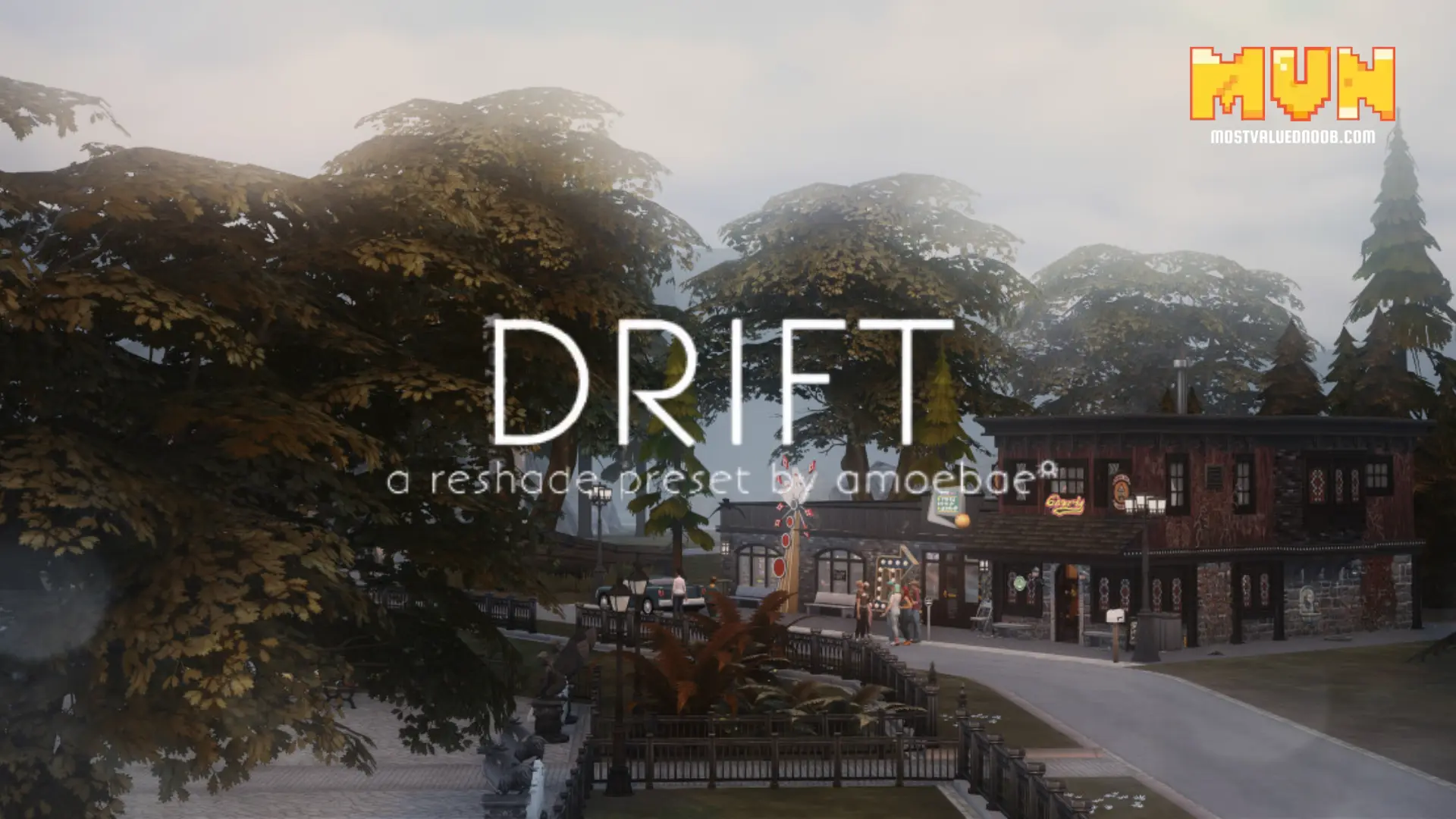 Even though it is not what many simmers prefer, it could be the best for those that want to add some extra darkness to the game.
14. Summer Pop Sims 4 Reshade Preset by mellindi
Before mentioning any thing else, I would love to state that mellindi is one of the most incredible sims 4 bloggers.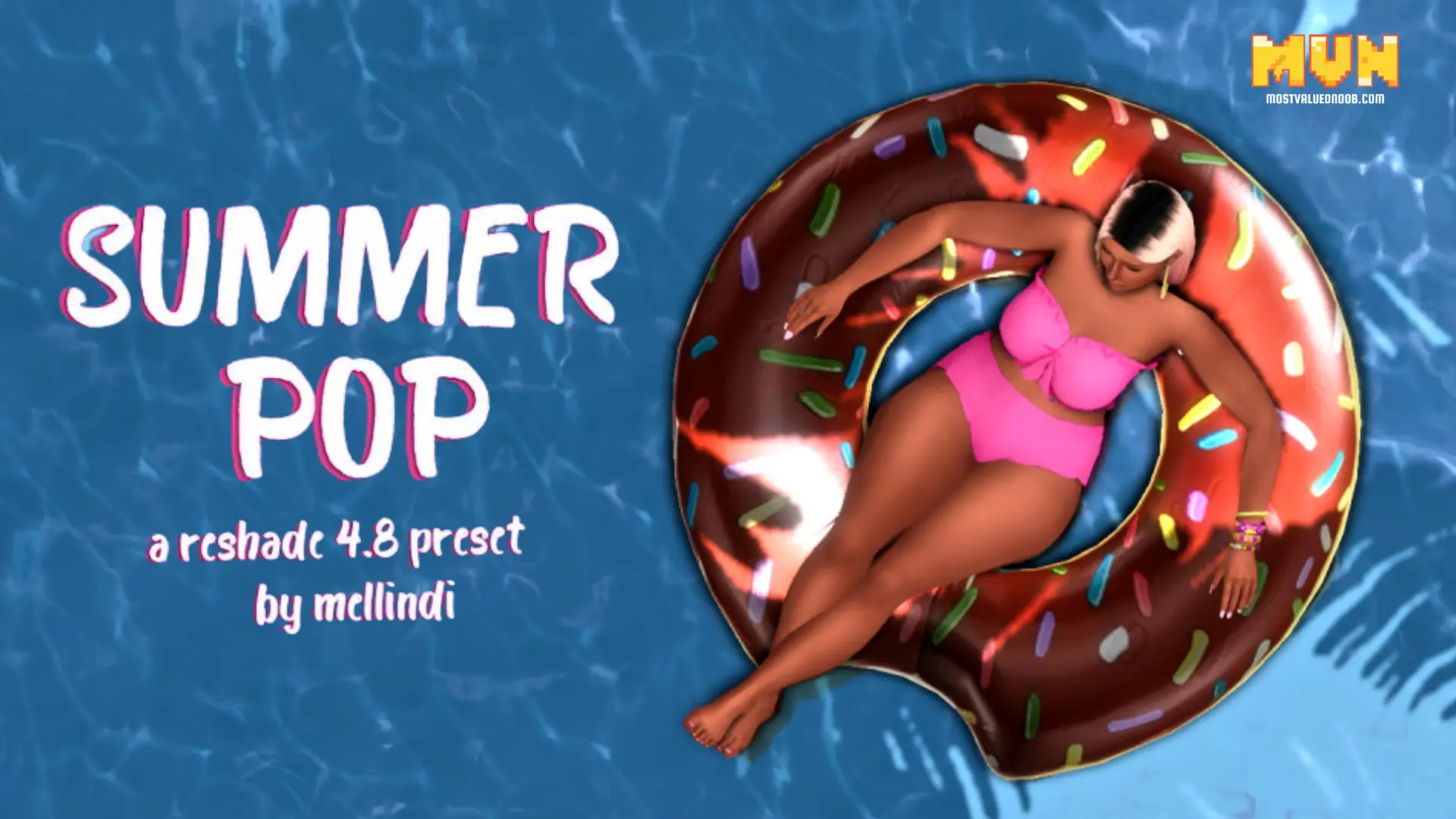 Her blog is simply great and she is one of those that write some awesome sims 4 content. Since her blog is super awesome, she does not a good reshade preset to go with it. This preset is called Summer pop and your guessed it right! It adds so much brightness and color to it.
15. Terra Guaranalis Sims 4 Reshade Preset by Magalhaessims
If you want something that can make your game artistic and bold with a rusty and colorful feel to it then this is the preset that you need.
I must say that this is a unique preset that you will simply love.
16. Clear Bloom Sims 4 Reshade Preset by amoebae
Clear Bloom, as a name suggest brings with it a lot of clarity, color and softness. In simple words, it is just beautiful and it is one of the best options for a regular gameplay reset.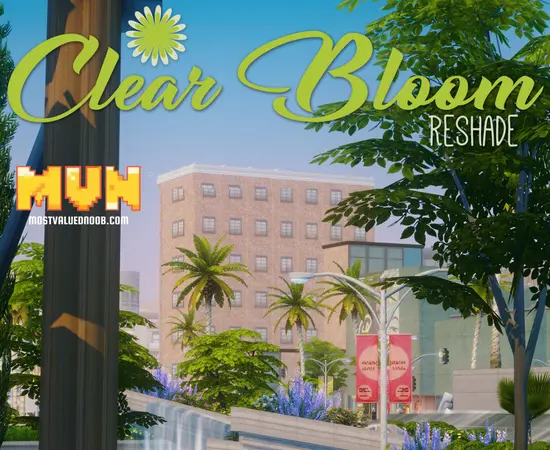 The creator of this preset, however, mentioned that it is essentially a hands-on preset. What it means is that you will have to open up the Reshade while playing the game and turn the effects on or off depending upon the lighting.
17. Simple Sim Reshade Preset by oshinsims
There are many gamers who want to make subtle and simple changes to the game while retaining the character of the game. This preset is a perfect choice for such gamers since it can help brighten the game while adding some depth to it at the same time. However, it does so without being too different from the usual sims 4 graphics.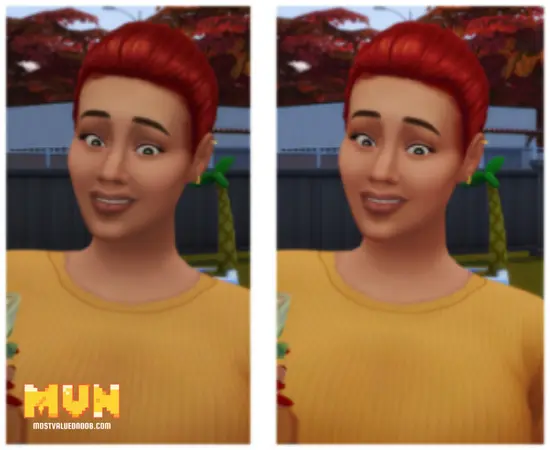 Yep, you guessed it right!
This preset can help naturally enhance the game without causing oversaturation.
18. Livid Sims 4 Reshade Preset by Charly Pancakes
Like a couple of other presets, this reshade preset was originally created with the intention of scenery screenshots. However, what makes it stand out is that it can be used for gameplay with a couple of simple and easy tweaks.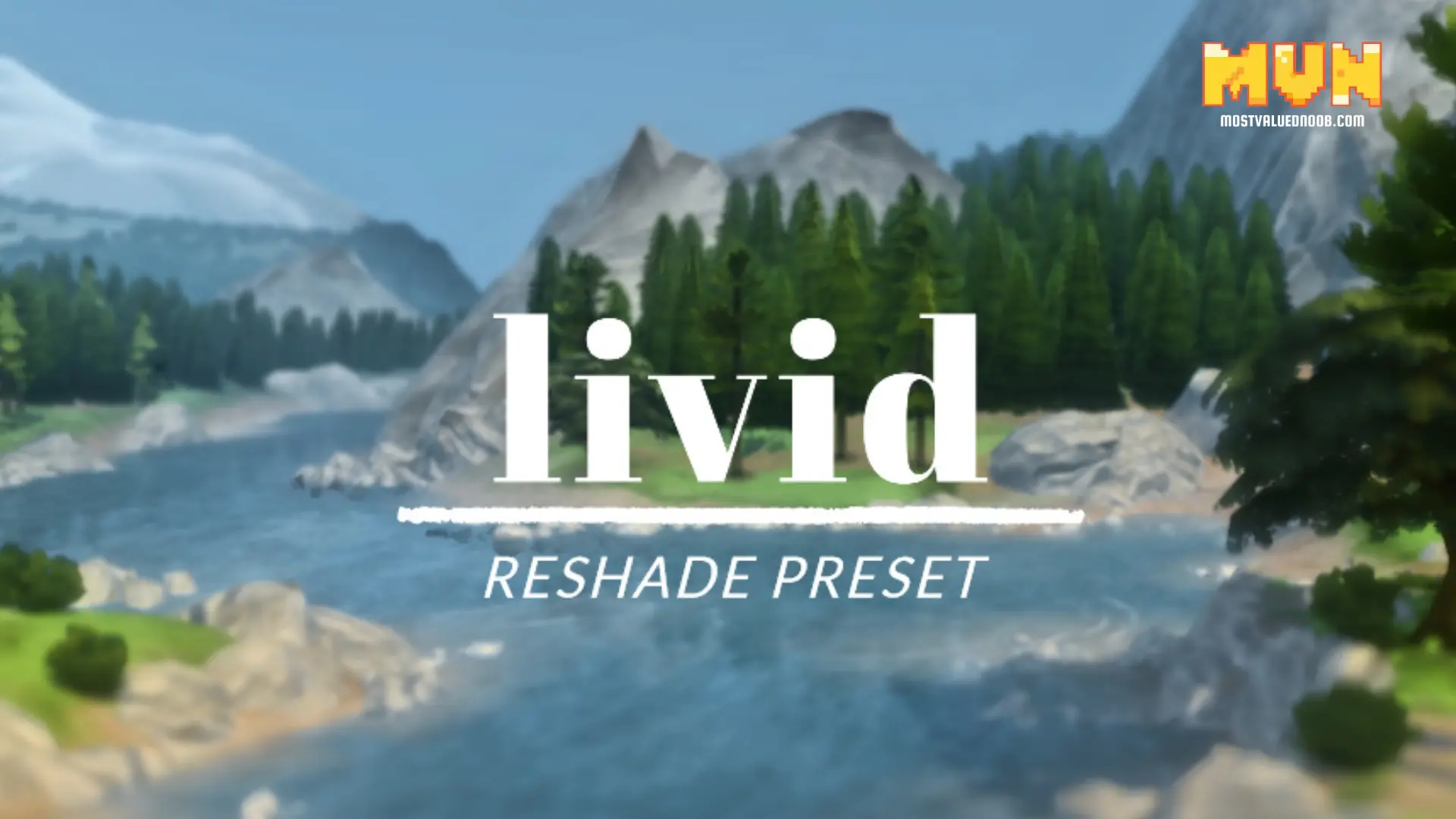 The livid preset comes with highly realistic colors than the regular game which, as most gamers feel, tends to have a bluish hue.
The look of this preset is kind of muted and yet it is able to make the game colorful, bright, and saturated.
19. Wintermelon Milk Tea Reshade Preset by Malixa
Wintermelon milk tean reshade preset is not just cartoon-like but is extremely vibrant too.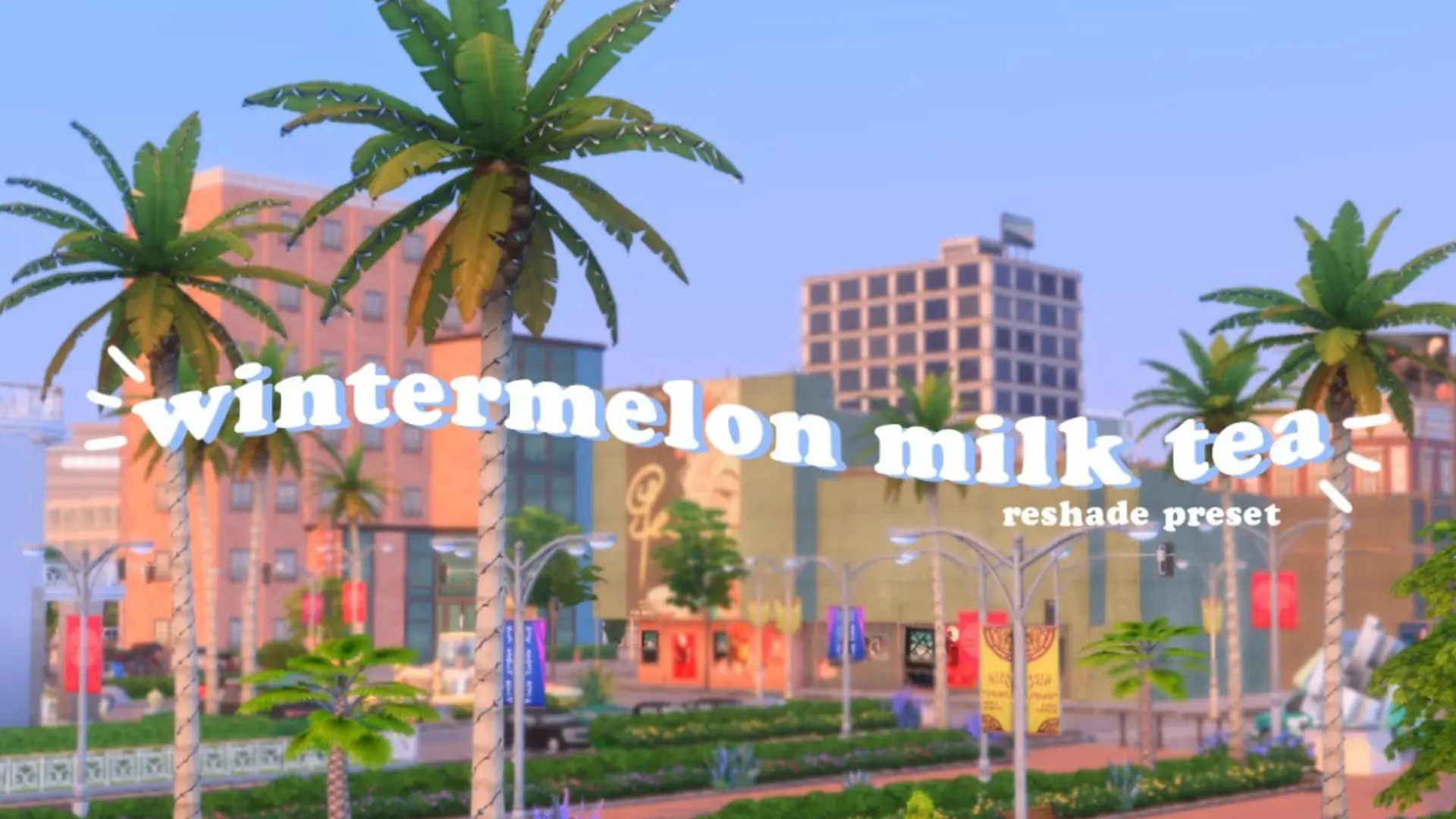 In other words, it is just ideal choice if you want a picture-perfect preset.
20. Love Shade Vogue Sims 4 Reshade Preset by hazelmine
This one is a huge favorite amomg simmers so much so that it is often talked off in Youtube favorites and Tumblr posts.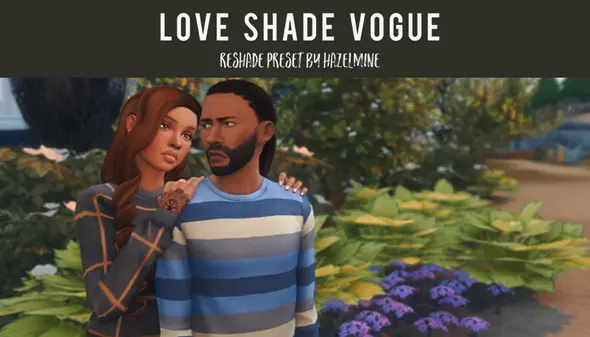 It not only adds color and vibrancy to the game but is also likely to add so much visual depth to it, which is what most simmers simply love about it.
21. Ambrosia Sims 4 Reshade Preset by peachyfaerie
If you are looking for a preset that is bright, colorful, and saturated at the same time, then you have another option in the form of Amrosia Sims 4 reshade preset.
This is an absolute must that you should have if you want to make your dull-looking screenshots bright and beautiful.
22. Rosemary Sims 4 Reshade Preset by aillian
This one is for those that want to make Sims 4 super trendy. This preset can make sims 4 aestheticially appealing.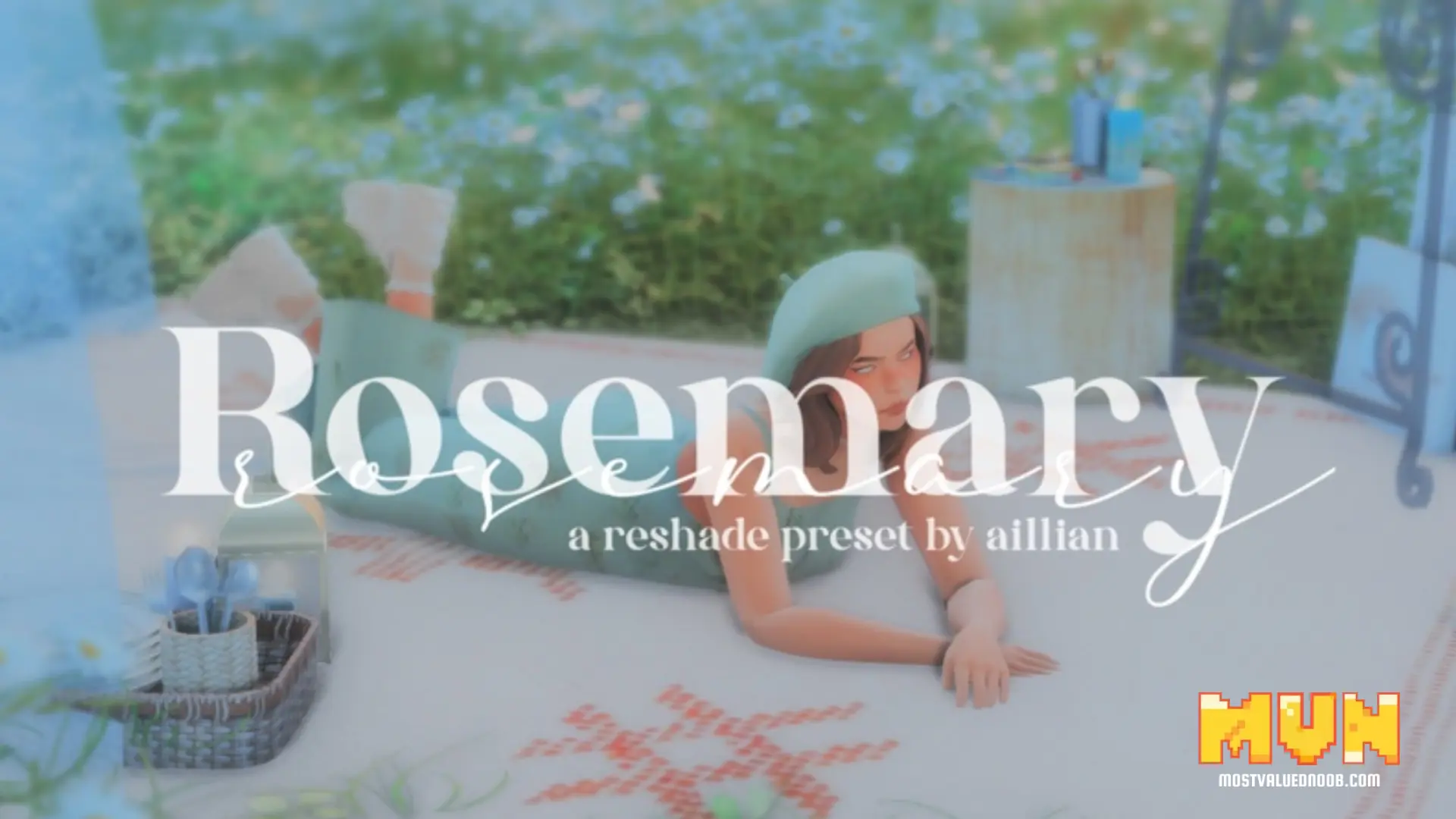 What it actually does is that it adds a little bit of blurry softness to the game and manages to create a completely new vibe!
23. OshinLITE Sims 4 Reshade Preset by Oshin
Oshin manages to creat simple sims 4 presets that are subtle and yet capable of enhancing the graphics.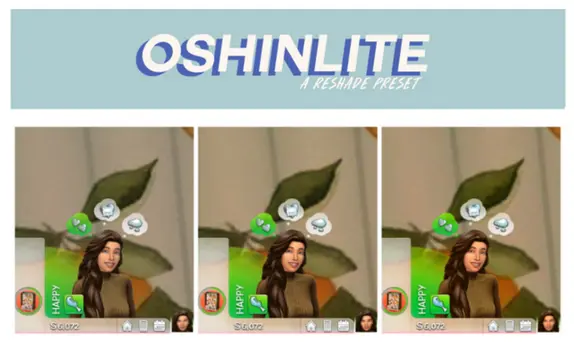 This one comes in two versions and it is supposed to be the best choice for players who are new to Reshade. I must mention here that the second version is the one that is more vibrant than the original.
FAQs
Where Can I Download ReShade for Sims 4?
ReShade is known to have released the version 5.0. However, most of the presets mentioned above utilize version 4.1 or later.
How do I Install ReShade for Sims 4? How do I install ReShade Presets for Sims 4?
If you are new to ReShade, you can actually use this tutorial on how to install ReShade for Sims 4. It answers all your other questions too.
Anytime, I uninstall ReShade, I always forget how to download it again. So, no judgment from me if you've done this before and need a refresher.
Or if you're new to ReShade, hopefully, this incredible tutorial on how to install ReShade for Sims 4 answers all of your questions.
How do I take Screenshots with ReShade in Sims 4?
Here's what you need to do to show the effects of ReShade:
In order to go into the ReShade settings press Shift + F2
Set a screenshot shortcut now (for instance, The Prent Screen Key)
Now, you can use the shortcut ley as set above to take Sims 4 screenshots.
How do I edit my Sims 4 Photos?
In order to edit Sims 4 screenshots, you must avoid a tool that is simple, easy and fast to use. You must always avoid fancy tools that are quite complicated. One of the best choices in this regard is Canva. I just love this tool since it is much easier than photoshop and even beginners can use it without any issues.
There is a free version of Canva that you can test to see how it goes. Personally, I use Canva Pro or the paid version and it can help you remove the background too.
Conclusion
I have tried to list some of the best sims 4 reshade presets above and these are the ones that I have personally tried myself at some point of time or the other. They can easily help you change the look of the game and also allow you to take some lover in-game screenshots.
Abdullah Tariq, the founder of this site, is a passionate gamer and loves sharing his knowledge about gaming hardware and accessories. He is also a software engineer whose ultimate goal is to develop gripping titles.